Romantic Dreams Becomes Brum Scrub Hub
Reading Time: 2 minutes
Replacing wedding veils with scrubs, Romantic Dreams – a bridal boutique in Birmingham's Jewellery Quarter – has become the local centre for Brum Scrubs with thousands of scrubs being created for local medical professionals.
The Scrub Hub network began a few weeks ago in Hackney Wick in London but has spread to include volunteer groups up and down the country. The Birmingham chapter was set up by Marcelle Porteous on the 11th April and within a few hours they had their first order of 150 scrubs. In just under two weeks, the group has grown to a team of over 180 volunteers including sewers and delivery drivers.
Romantic Dreams bridal shop, in the Jewellery Quarter, has become one of the two Birmingham hubs for sewing activities as well as the drop off and pick-up locations for materials and finished products. As well as ensuring all volunteers are adhering to government guidance on social distancing, the team has also faced logistical challenges when trying to keep up with the huge demand for scrubs.
However, following a successful fundraising campaign that raised £5,000, the team has been able to purchase more fabric and send out sewing kits to local volunteers to keep up with the increasing demand.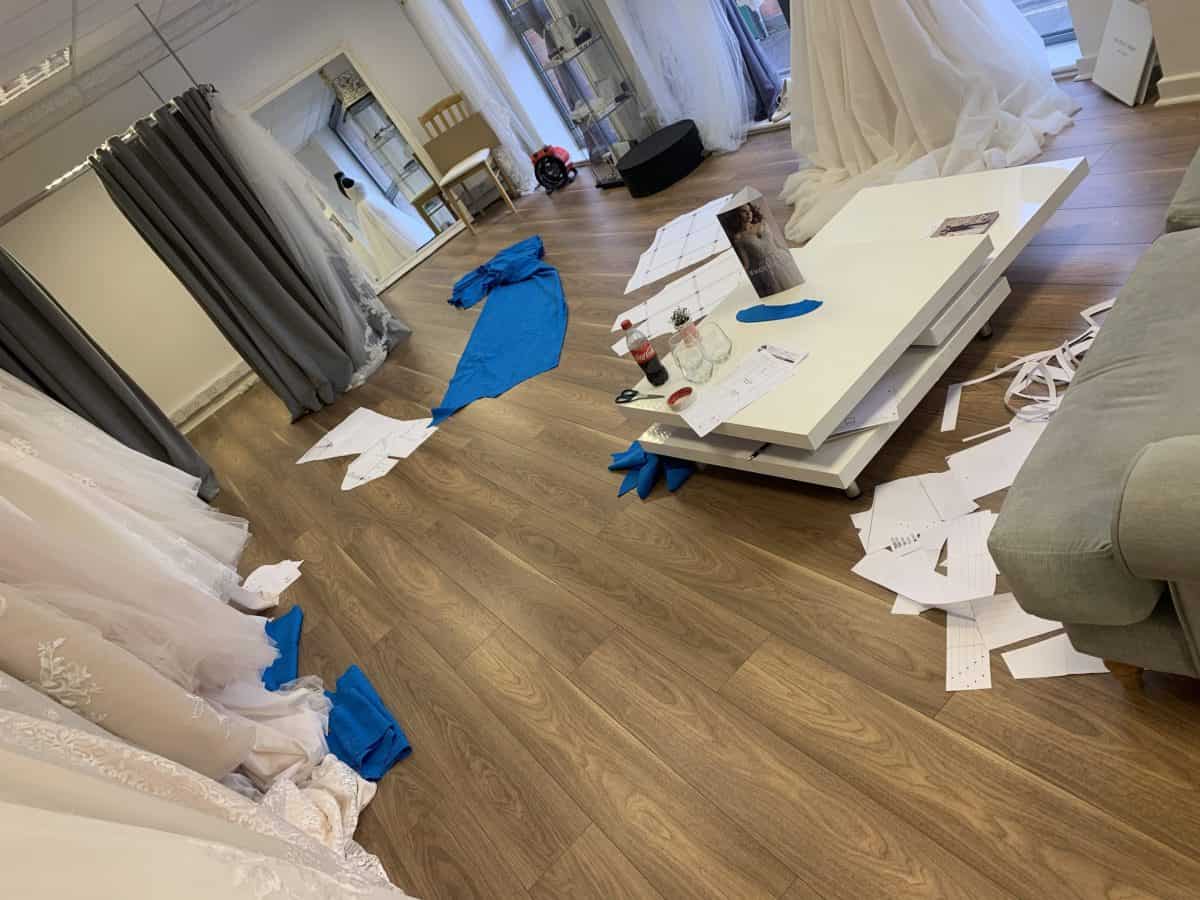 Sammy Dingley from Romantic Dreams said:
I am a workaholic by nature and two weeks into lockdown with the boutique being closed I was going a bit stir crazy. I've always had an interest in sewing and when I heard areas were looking for sewers to make scrubs I immediately wanted to be involved and it turned out the Birmingham team was just being assembled so I could get involved in the team leading side of things too!

With the boutique being closed I offered up the space to use as a temporary warehouse and have used our social media platforms to inspire support from our already established following. If we can relieve the worry of a scrubs shortage and allow our NHS heroes to concentrate on patient care, then we've succeeded.

The community spirit shown during this project from our army of local sewers has been incredible and is what Romantic Dreams has always been about — going above and beyond to make a real difference.
Not only are the team of volunteers creating free scrubs, but they are even going the extra mile by including washable drawstring bags and ear guards to ease the stress for NHS workers wearing masks throughout their shift.
As the operation is rapidly expanding the team still needs help from volunteers and donors.
Sammy said: In terms of support we still need everything! Funding is a big one but so is fabric and materials because it is so hard to get right now! And of course, if there are some great sewers out there then we want to hear from them.
You can get in touch with Brum Scrubs via email scrubhubsouthbirmingham@gmail.com. Or visit their social media pages to find out more about their current activities and how you can get involved.
Instagram: www.instagram.com/brumscrubs
Facebook: https://www.facebook.com/Scrub-Hub-South-Birmingham-107990970865741/
Twitter: https://twitter.com/BrumScrubs