Quarter Life – Issue 5 – Out Now
Reading Time: < 1 minute
The fifth issue of Quarter Life – the official magazine for the Jewellery Quarter – is out now!
The magazine, which is part of the marketing strategy outlined in the Jewellery Quarter BID Prospectus, is of interest to people who live, learn, work and visit the area. It is also an informative guide for visitors who may not have experienced all that the area has to offer.
This issue focuses on the vast and interesting retail sector in the Quarter complete with a pull out guide about where to get those last minute Christmas presents. Justin Bourne, owner of Hard to Find Whisky, graces the cover and chooses his top three tipples inside as well as all of the latest news from the area.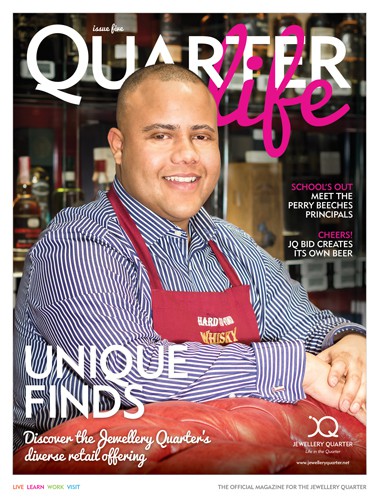 Click here to download this issue.
Free copies will be available at various locations in the Quarter and the publication forms part of Marketing Birmingham's press pack about the city.
If you have a story you think would be perfect for Issue 6 email laura@barquespr.co.uk.