JQ Independent Businesses | Supporting Local
Reading Time: 3 minutes
JQ independent businesses, they are thriving, bringing a range of different products and services to the area. These businesses form a huge part of what makes the JQ an exciting and vibrant place to live, work, and visit. There are so many fantastic JQ independent businesses, we hear great stories every day from hard-working people doing fantastic things. If you have a great story or if you know a JQ independent that has done something great get in touch via info@jqdt.org. In this blog, we showcase Janet Gray, from local business, Feed My Creative.
Janet Gray, Feed My Creative
On what Feed My Creative do…
"Feed My Creative is a social enterprise working creatively with young people and adults to demonstrate ways to be sustainable with textiles by reusing clothing, soft furnishing, fabrics, and furniture to reduce waste. The project gives people the freedom to learn in a 'no limits' environment, learn basic skills, and create things at a relatively low cost all in the heart of the JQ.
Our aims are to reduce waste and create more sustainable communities. What we do is not just about the sewing – it's about people coming together and 'sewcialising'!  If you come to a workshop, you will have fun and I guarantee you'll leave with a completed product even if you have no previous sewing experience!"
On serving the local community…
"My textiles are donated by a local large well-known retailer, which enables me to donate soft furnishings like bedding and curtains to homeless charities, those working with supported housing, survivors of domestic violence, and refugees. I also run creative textile workshops with local community groups, educational organisations, and charities, and support young people on their own creative journey by offering mentoring and a free workspace."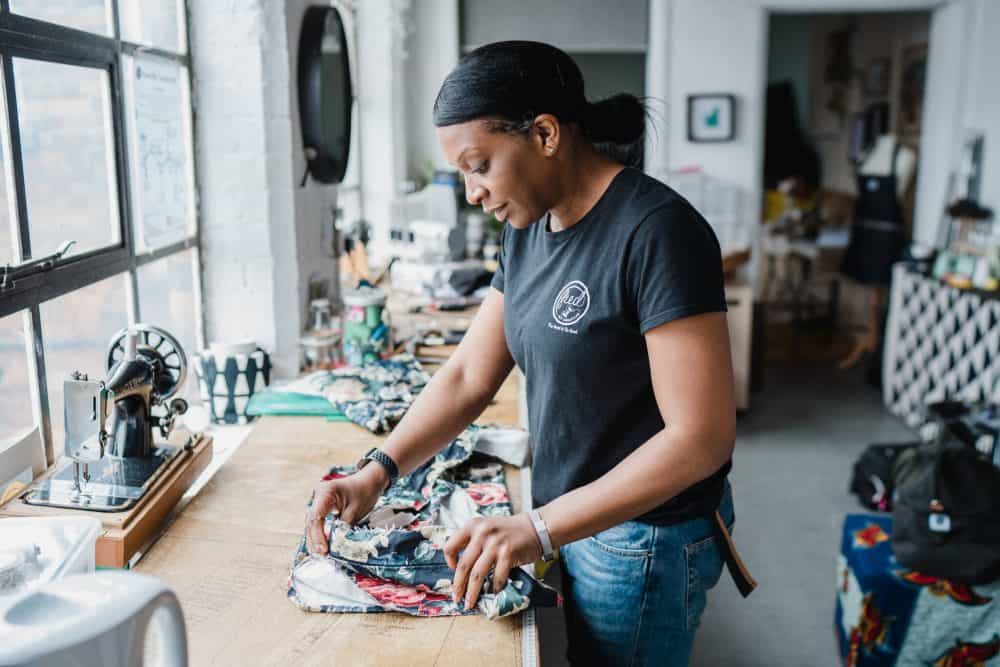 On how the JQ is the perfect place for independents…
"I moved into the JQ September 2017, so I haven't been here that long, but coming here with my business was an easy choice to make. I needed somewhere that was central and easy to get to. Location is key for me and being so close to the train and tramline from the city means it's an accessible space for everyone to visit.
When I saw the space that I'm in now, I knew straight away that it was the best place for me to be in. Everyone in the JQ is so friendly, and being involved with the JQ Festival each year with Quartermasters has also created opportunities for me to introduce what I do to more people. The Jewellery Quarter ticks all the boxes for me."
On why it's important to support the JQ independents…
"Independent businesses work tirelessly, and unlike larger retailers, we go above and beyond to create quality, authentic pieces and give first-class personal customer service.  You can build better relationships with independent businesses, because there is more attention to detail. The authenticity of independents is something you see as soon as you walk through the door. We can't exist without the support of our community – it helps us to grow and to also give back. We're definitely stronger together."
JQ Business address: Unit 26 Hylton Court, 25 Hylton Street
Get in touch: Visit www.feedmycreative.com, or get in touch with Janet on info@feedmycreative.com
We always support and promote JQ businesses. If you've taken some amazing photos or would like a piece of news promoted then tag us today on social media with the hashtag #MadeInTheJQ and we will do the rest. Find out more about JQ Independent businesses by cruising our directory or heading over to our social media channels today to see what we're up to. If you are a JQ independent business and want more support, contact us via info@jqdt.org and we will happily answer any of your questions.
This blog post is taken from issue 5 of our JQ Life Magazine. To read the rest of this issue, head over here.