Michele White Jewellery – How We Make It
Reading Time: 3 minutes
Michele White, acclaimed British contemporary jewellery designer, has been hand-making jewellery in the Jewellery Quarter for over 30 years. Selecting precious metals and rare gemstones, Michele creates unique collections she describes as 'wearable art'.
As a qualified gemologist, Michele uses gemstones that stand out from the ordinary – those with an interesting inclusion or unusual cut, and these are often the creative motivation for the way her pieces develop.
"I work with precious metals, but I am always looking for minerals and gemstones that I can use," Michele White Jewellery. "There are new minerals and gems being discovered all the time, and although many of them are beautiful, they're not always practical for jewellery," she explains. Dealers often visit Michele's workshop from countries far and wide where she chooses from their extensive stock of wares – one of Michele's signature pieces, the Paradise Island brooch, for example, boasts a boulder opal from Australia.
Michele White describes her method of jewellery making as one that is dictated by the sort of finished product she is after. "All of my pieces start as a drawing in my sketchbook, and I work faithfully from that," she says. For Michele, it's all about the visual effect created by combining different materials to create a piece of art – "I like to build landscapes within my designs – many are often layered, I find it gives them depth without weight," she explains. This is often achieved by mixing textured and polished metals with smooth stones and crystals.
As the greater part of Michele White's jewellery is handmade, the process then begins with silver and gold sheet and wire, a saw, files, pliers, and other tools with which she builds the piece with reference to her sketches. "My first brooches were made with landscape agates which lend themselves perfectly to the pieces. Nevertheless, my favourite gems are opals – they're all so beautiful and varied, and I use them a great deal, especially in my handmade 18ct rings. The opals contrast brilliantly with the yellow of the gold, and are finished with diamonds to complete the whole piece," she explains.
Meet the Paradise Island brooch
Michele White's Paradise Island brooch was inspired by the lozenge-shaped boulder opal sourced from Australia, which instantly struck a chord with Michele as being perfect for an ocean scene piece. "The lower half of the opal is green like the sea, and the upper half is blue like the sky, with a glittering green line across the centre. This piece is the only one of its kind," Michele says.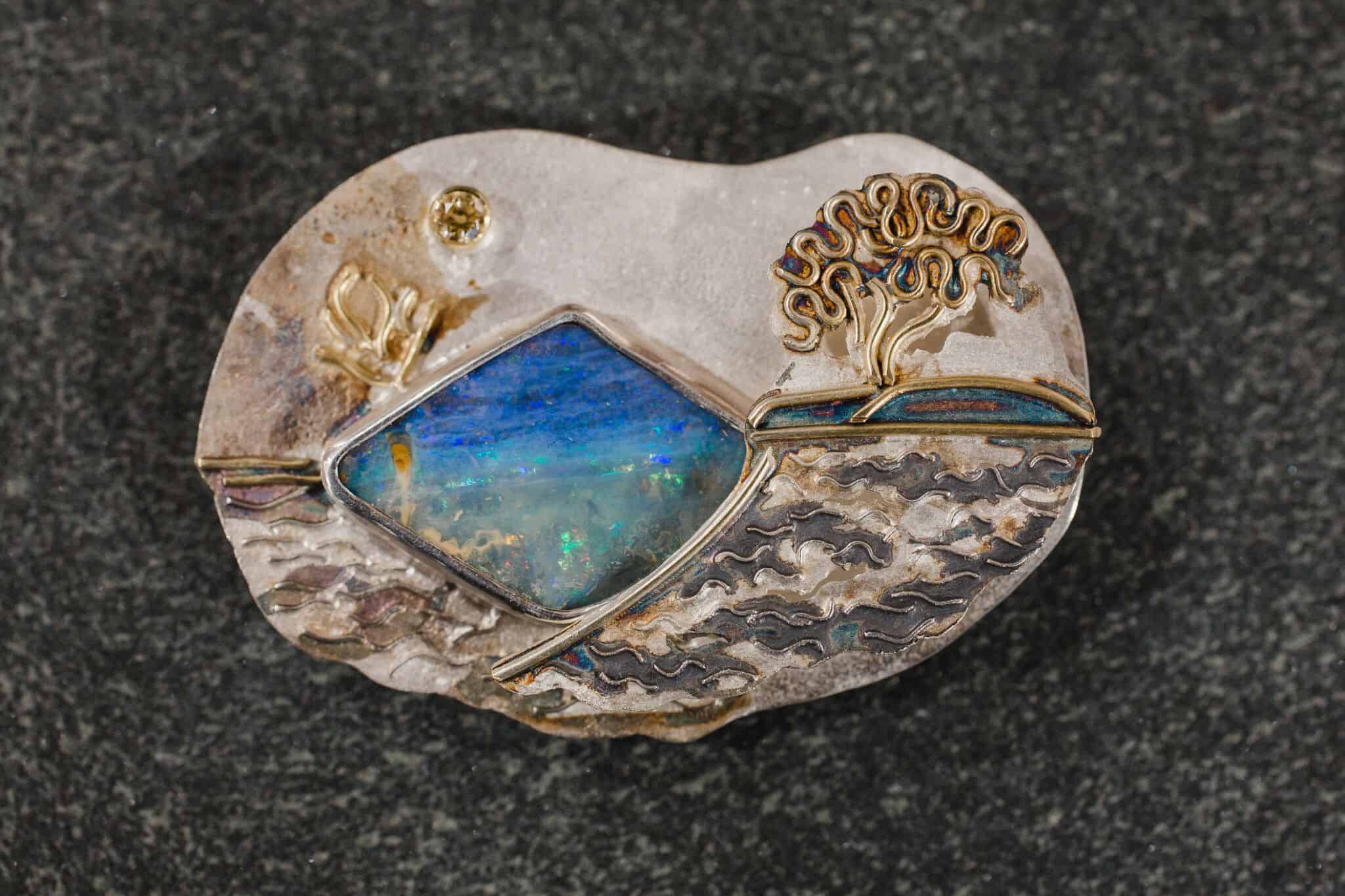 The elegant brooch is created in two parts, showcasing Michele's White layered approach. The background holds the opal and the yellow diamond sun, while the foreground presents the island on the sea with the tree growing from it. For the tree, Michele uses 18 carat gold wire which is shaped into flowing branches with pliers and then glued to the silver sheet. When the glue is dry, a strong flame is used to fuse the pieces. When all elements are complete, which often takes many days, they are riveted together – a process which allows for the sheets to be joined without using heat or soldering.
So, what makes the JQ the perfect home for Michele White Jewellery? "Many of the suppliers and services I use are on my doorstep here on Caroline Street, but it is the sense of community that makes it such a pleasant place to work. I can't imagine being anywhere else."
If you'd like to know more about Michele White Jewellery or where to buy it then head over to her website today, she is also the owner of Artisan Alchemy, a fine furniture and jewellery gallery located on Caroline Street. Find out more at www.artisan-alchemy.co.uk.
This blog post is taken from issue 5 of our JQ Life Magazine. To read the rest of this issue, head over here.