UCB's gold-medal chefs are crowned Britain's best
Reading Time: 2 minutes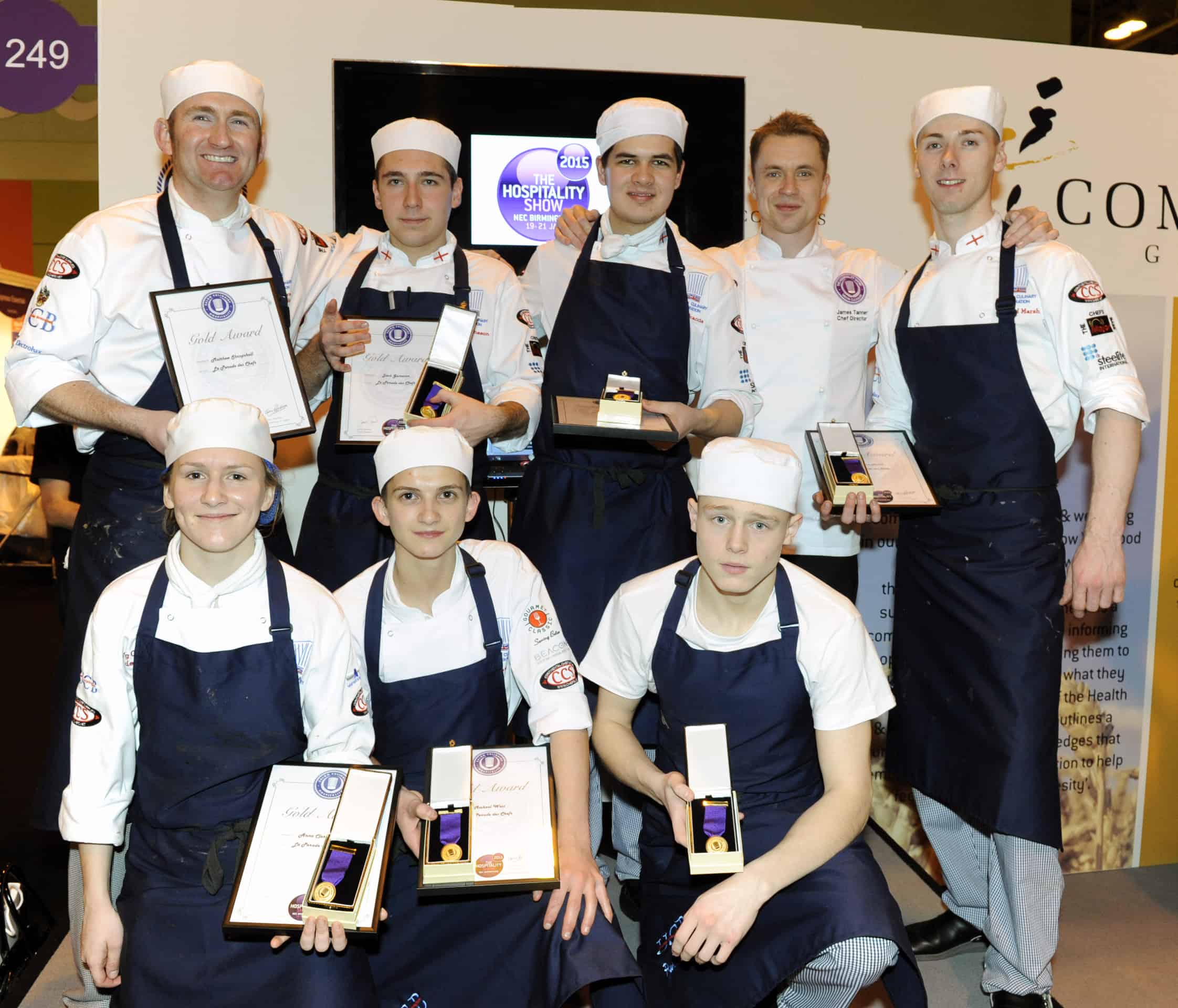 Young chefs at University College Birmingham are celebrating after scooping gold at a prestigious culinary competition – and being crowned Britain's best.
The team of five young cooks, mentored by a senior chef, scored top marks at La Parade des Chefs at the Hospitality Show at Birmingham's NEC.
The team, led by chef lecturer Mat Shropshall, was one of three finalists and shared gold with the Combined Services team of Armed Forces chefs.
However, the judges also awarded UCB the ultimate accolade of being the contest's top overall team, recognising it as "the best of the best."
La Parade des Chefs is the Hospitality Show's fine dining experience and each team is required to produce lunch for 100 covers. The chefs work in a glass-walled kitchen, watched by judges and spectators, with a different team cooking on each of the three days of the show.
The competition has a different theme each year and it was run as a junior talent event for 2015. All the junior members had to be aged 23 or under on 1 January.
The triumphant UCB team, supported by the British Culinary Federation, comprised: Anna Claringball, 19, of Edgbaston; Luke Dcaccia, 18, of Erdington; Jack Gameson, 19, of Kings Norton; Michael West, 18, of Hednesford, Staffs; Ed Marsh, 21, of Penkridge, Staffs; and kitchen porter Nathan Lane, 16.
Their award-winning menu featured a starter of pan-fried farmed halibut, crab "bon bon," pickled onion, radish and cucumber, Romanesco purée, seaweed crumb and dill velouté; a main course of peppered venison loin, pommes Anna, fennel and ginger, wilted greens, wild mushrooms, lamb sweetbreads and port and rosemary jus; and a dessert of Valrhona orange chocolate mousse, orange jelly, blood orange sorbet, chocolate soil, crème Anglaise and caramel wafer.
UCB students also provided the front-of-house restaurant service for the three days of La Parade.
Neil Rippington, Dean of UCB's College of Food, said: "This is a superb achievement by the students. The meal was perfectly executed. It was also terrific to see UCB's front-of-house team perform so well. Both our young chefs and restaurant service students are a credit to the University."
UCB team captain, chef mentor Mat Shropshall, said: "It is a great honour to have been involved and to have mentored such an inspiring and motivated team of young chefs."
UCB professional bakery students also had a good show, winning four silvers, three bronzes and several merits for sugar-crafted flowers and cakes with sugar-crafted decorations.