Students work with MasterChef champ to serve up five-course VIP meal
Reading Time: 3 minutes
Over 30 students from University College Birmingham had a lesson like no other when they got to work with MasterChef: The Professionals winner Dan Lee to prepare a five-course feast for VIP guests from across Birmingham.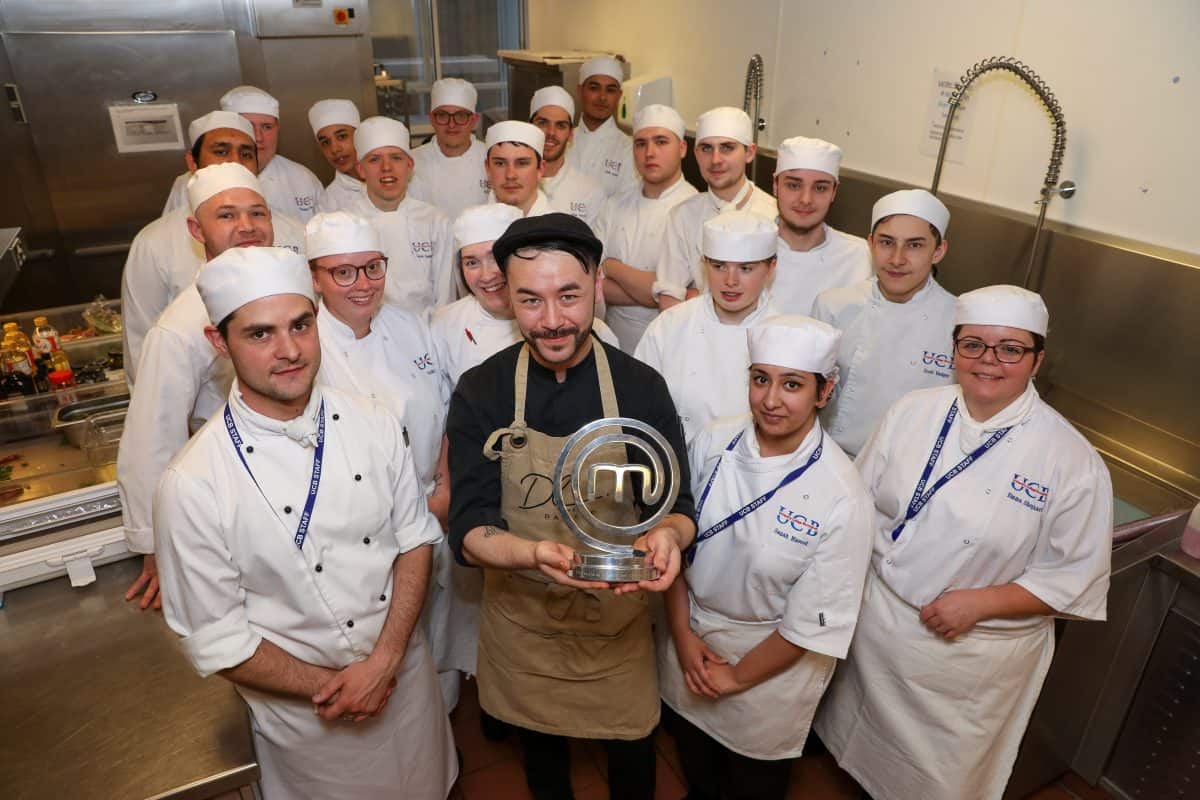 Dan, who studied at Birmingham College of Food 12 years ago and won series 14 of MasterChef: The Professionals before Christmas, returned to the kitchen and spent two days helping the next generation of chefs studying Level 3 Professional Cookery hone their skills for the special dinner at the University's award-winning restaurant.
The 55 guests included Dr Justin Varney, director of public health at Birmingham City Council, Henrietta Brearley, the CEO of the Greater Birmingham Chamber and Monty Stonehewer, a MasterChef in his own right and head chef at Peels, the Michelin Star-rated hotspot at Hampton Manor.
Guests from local schools and colleges, who work closely with University College Birmingham, also attended the dinner, including deputy headteacher Mike Hosfield from Hall Green Secondary School, where Dan was educated.
Served by Level 3 front of house students, the complex dishes comprised snacks of salmon kinilaw, smoked beef tartare and cured tomatoes and fried bao with miso butter, a starter of BBQ king oyster mushroom with sweet potato and chive, a main of soy cured beef or aubergine with champ and pak choi and a smoked hay treacle tart dessert.
Between courses, each table of guests, which included leading lights from the NHS, food bloggers and representatives from the University's Guild of Students, got to visit the kitchen and see Dan and the students at work.
And out front, 17-year-old student Maddie Stanley was just one of the evening's stars of the show, choosing the wines to pair with each dish and presenting them to guests before each course.
After the plates were cleared, Dan led the students out to rapturous applause. He said: 
This is my menu with bits I've made on MasterChef. I gave the students a prep list and they turned it out. I'm talking dishes that I was stressing over, losing my head. But the students took it on board, took the recipes, and made the food you ate this evening.

I had a bit of a hand, but it was the students' technique and skills that make it happen. They're incredible. The chefs that are coming through right now from this college are miles ahead of where I was at the time and it's exciting. It's been such a privilege to work with them.
Student chef Adam Graystone, aged 24, who is studying for a Level 3 Diploma in Professional Cookery, said: 
Having a MasterChef winner in the kitchen was a great feeling. Being able to watch how he works and what ingredients and methods he uses really helped develop and expand upon what I've already learnt during my time at UCB.

The buzz around the kitchen was very exciting the whole night. Being involved really made me think about where I'd like to be as a chef in the future. The opportunity to cook different styles of food really gave me a sense of possibility and pride in the food we cook at UCB.
Kali Davidson, head of Birmingham College of Food, said: 
Wow, what an evening. Dan grafted all day in the kitchen with the students, who worked so hard to execute a set of dishes that even Dan described as complex. And our front-of-house students were outstanding.

The past few years have been extremely challenging for hospitality and having Dan come back to show students that they could have an exciting future in the profession ahead of them was invaluable.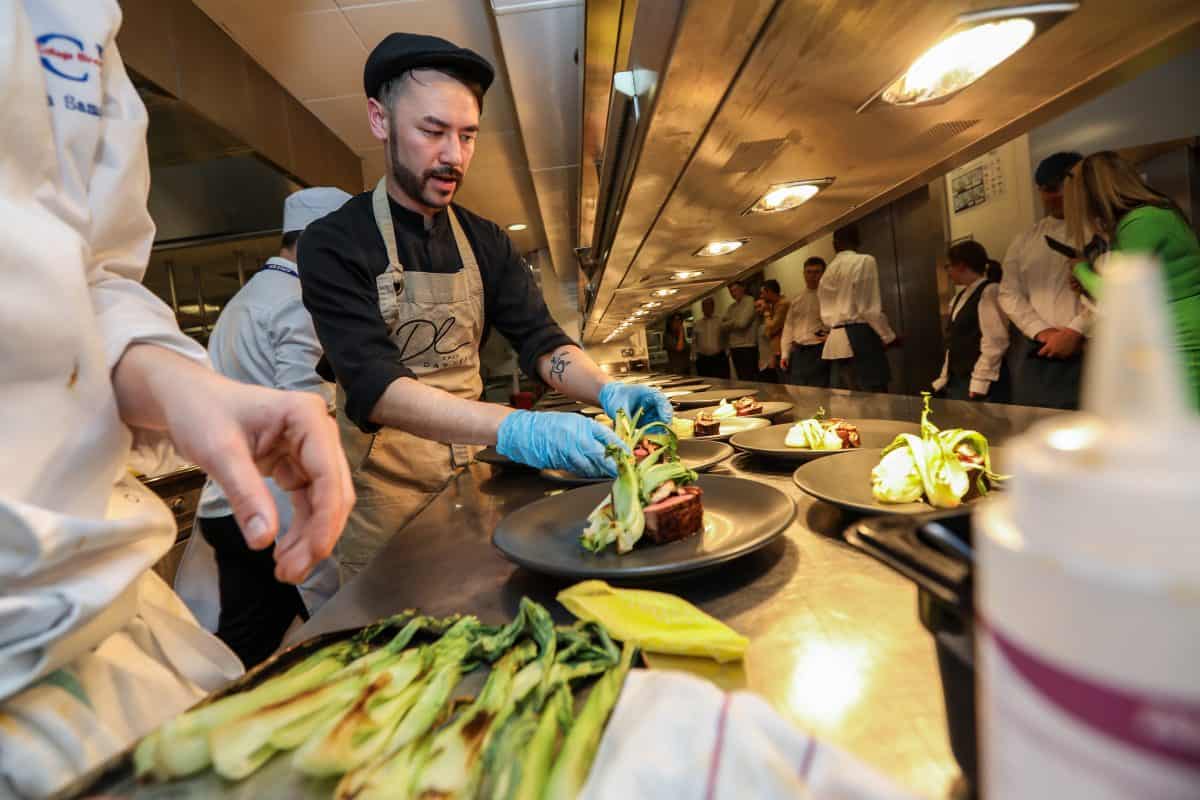 Restaurant at Birmingham College of Food is open to the public and has five stars on TripAdvisor, which lists it as the 24th best restaurant in the city.
Students who worked with Dan Lee on the night:
Kitchen
Billy Battle
Georgia Beaman
Patricija Emule
Aidan Facer
Tom Hassall
Callum Masters
Jake Rouse
Kieran Sampson
Vicky Slim
Adam Zaman
Pastry
Scott Badger
Kieron Carter
Rebecca Davis
Adam Graystone
Matt Slim
Abigail Walton
Alicia Watt-Wallace
Front of house
Maddie Stanley
Dominic Heelas
Gemma Liszewsky
Mia McLaren
Jaydon Nelson-Lyons
Rosa Gillespie
Luke Burrows
Eleni Ivanova
Dennis Yeboah Osei
Luis Byrne
Maddie Chambers
Adam Burn
Oliver Gill
Darnell Hylton
Jamie Mcleod
Lawson Smith
Sabeya Tikamda
Maison Whiston
Lecturers
Christine Alberto
Emma Shephard
Alex Kerry
University College Birmingham is renowned for providing specialist vocational training for students looking to enter the culinary industry, with world-class facilities and expert tuition provided on a range of college, undergraduate and postgraduate courses as well as apprenticeships.
Discover the full range of courses within the Birmingham College of Food.