Photographers Show Their Love For JQ
Reading Time: 2 minutes
On Saturday 25th March, more than one hundred photographers gathered for an InstaMeet in the Jewellery Quarter to show their love for one the most beautiful and quirky areas in the city.
An InstaMeet is a social gathering of users from the popular photo & video sharing social networking site Instagram. The Instagrammers (dubbed IGers) movement is designed to encourage and support photographers globally.

Video by Ross Jukes, with footage from Rebel Uncut.
The 'I Love JQ' was organised in partnership with Jewellery Quarter Business Improvement District and local IGers group, IGersBirmingham; and came with a twist on the usual InstaMeet formula by exploring several award-winning JQ businesses as well as the area itself.
Award winning businesses Barberology, The Quarterworkshop, Newman Brother's Coffin Works, Escape Live and Lily Jones Florist, who has recently qualified for RHS Chelsea Flower Show 2017, all opened their doors for budding photographers to view their workspaces, learn more about their respective trades and capture whatever inspired them. After the two-hour event, the group reconvened in popular Neighbourhood Bar, 1000 Trades, to share photos and enjoy some refreshments.
You can view the map for the day here.
"It was great to visit each of the businesses – and all the IGers seemed very happy with the wide variety of things and people to photograph." Commented the IGersBirmingham team in their post-event blog on their website.
"The architecture and streets in between each one also provided many photographic opportunities for everyone."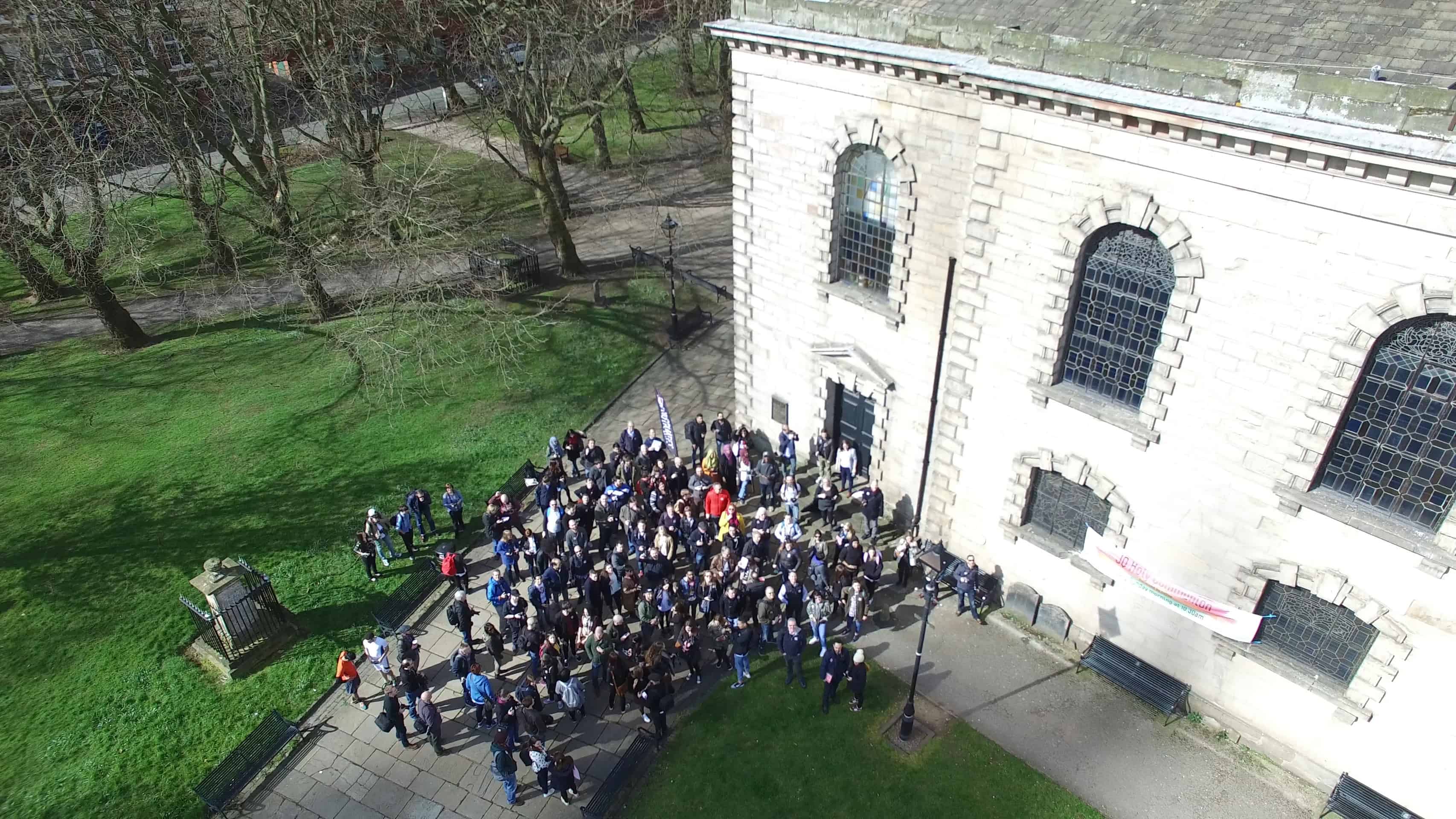 Nearly 1000 photos have been posted to the official hashtag #igb_meet_ilovejq, including an aerial shot of the IGers group captured by local creative agency, Rebel Uncut, who kindly volunteered their drone for the morning and even donated a prize to the event for the best shot of their drone. A video highlighting the event was also produced by local JQ photographer, Ross Jukes, which can be viewed below.
This is not the first partnership between the organisations, with a first InstaMeet being held in March 2016. The Jewellery Quarter BID also sponsored their first IGers Exhibition in December 2016.
JQBID Communications Exec, Mat Lovell said, "Working alongside Fraser and the IGers team is always a pleasure and their passion for Birmingham really shines through in their meets."
"The reception for this meet was fantastic with some absolutely stunning photographs of the Quarter and our award winning businesses."
The Jewellery Quarter BID would like to thank IGersBirmingham for holding the InstaMeet in the Quarter, as well as all of the budding IGers who turned out on the day. We would also like to thank the businesses who participated in the meet, you can find all of their details at the end of this article. To hear more about the day, you can visit the IGersBirmingham Official Website.
Got a JQ story? Email us. For regular Jewellery Quarter News, Events & Offers sign up to our mailer for free. You can also follow us on Twitter, Facebook, Instagram and Linked In.