Air Traffic Control Experience Opens At Wonderful World of Trains & Planes
Reading Time: 2 minutes
Did you know there are on average 320 flight movements a day at Birmingham Airport which are managed by a team of just nine people? The work is so concentrated that there are strict time limits imposed – a maximum of two hours at any one stretch. Get a real sense of what happens behind the scenes at a busy international airport.

What better way to spend the school holidays than discovering what it is like to stop the planes bumping into one another with the first ever Air Traffic Control Experience at The Wonderful World of Planes & Trains in Birmingham.
There is a series of monitors which link to live-feed radar where you can track the movement of aircraft activity at Birmingham (and Heathrow) Airports and watch planes take-off and land on the screens. Each aircraft has its own callsign – (airline reference code), plus details of its altitude and groundspeed and where it is routing out from when it leaves UK airspace.
"We wanted to encourage children to understand more about air travel and to give them more of an insight into what goes on behind the scenes. The airline industry is a fascinating one, who knows one of two of our young visitors might be inspired to follow a career in it when they're older." says Steve Jordan, Director, Wonderful World of Planes & Trains.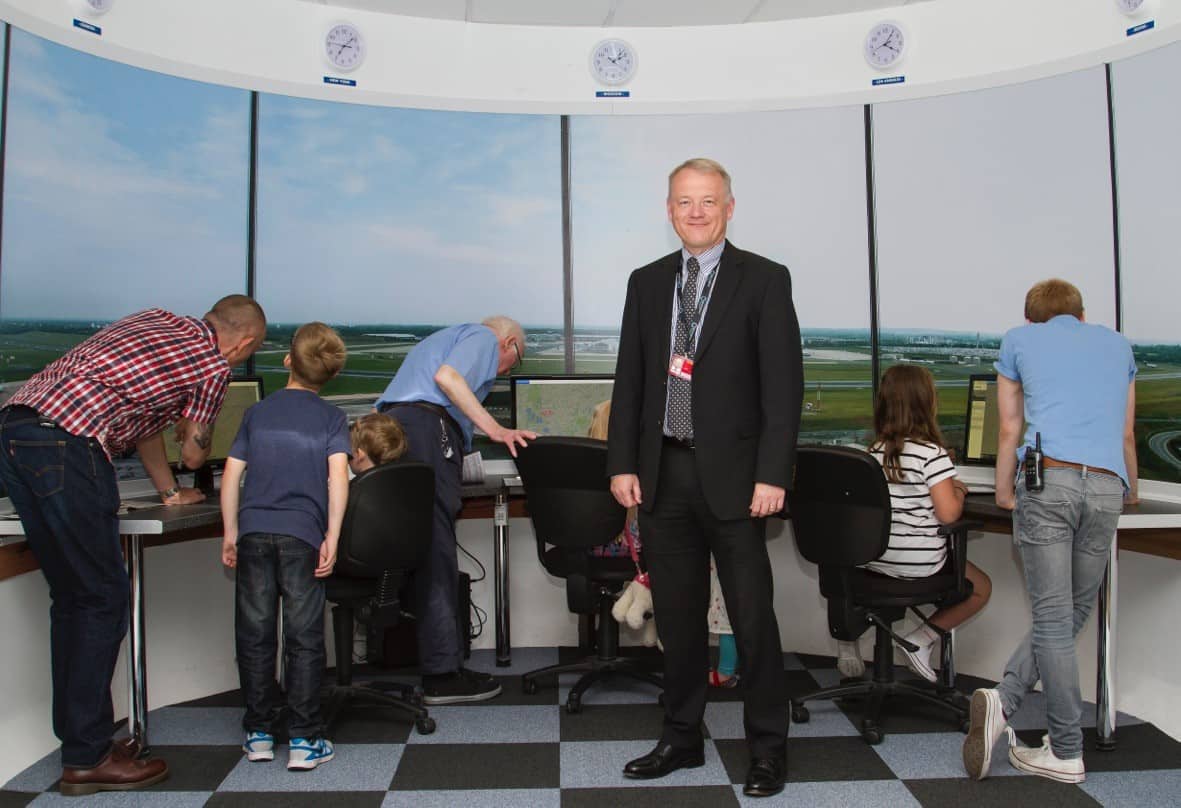 The exhibit includes clocks which show children the different time zones around the world and is a list detailing all the airline abbreviations on the wall. These individual callsigns are essential as they allow the planes to be easily tracked and located.
Richard Massingham, Head of Air Navigation Services at Birmingham Airport says, "The view from the control tower at the Wonderful World of Trains & Planes is an accurate recreation of the real time scene that we see from Birmingham Airport Air Traffic Control everyday. This new exhibit shows the flight data we are looking at all the time to ensure the smooth operation of the Airport with incident-free take-offs and landings."  A pre-recorded loop of the sounds and commentary from the Birmingham air traffic control tower gives a real sense of the work that goes on there.
While the Control Tower exhibit is not interactive, a staff member can help visitors to follow the progress of a particular aircraft on screen. For those wanting a more hands-on experience they can always learn to fly a plane at the Flight School which comprises a row of flight simulators where visitors can take the controls of a single-engined Cessna and, if they land that safely, move on to a Boeing 737 or even fly at low level down the Las Vegas Strip.
Opening times:  School Holidays and Bank Holidays open everyday 10am-5pm.
Great value family ticket (2 adults, 2 children) only £18.50, includes access to all the exhibits and attractions.
For venue and ticket information please call 0121 227 4000 or visit the website. You can also follow Wonderful World of Trains & Plains on Twitter.