In Their Own Words: Karlus G. Tailor
Reading Time: 5 minutes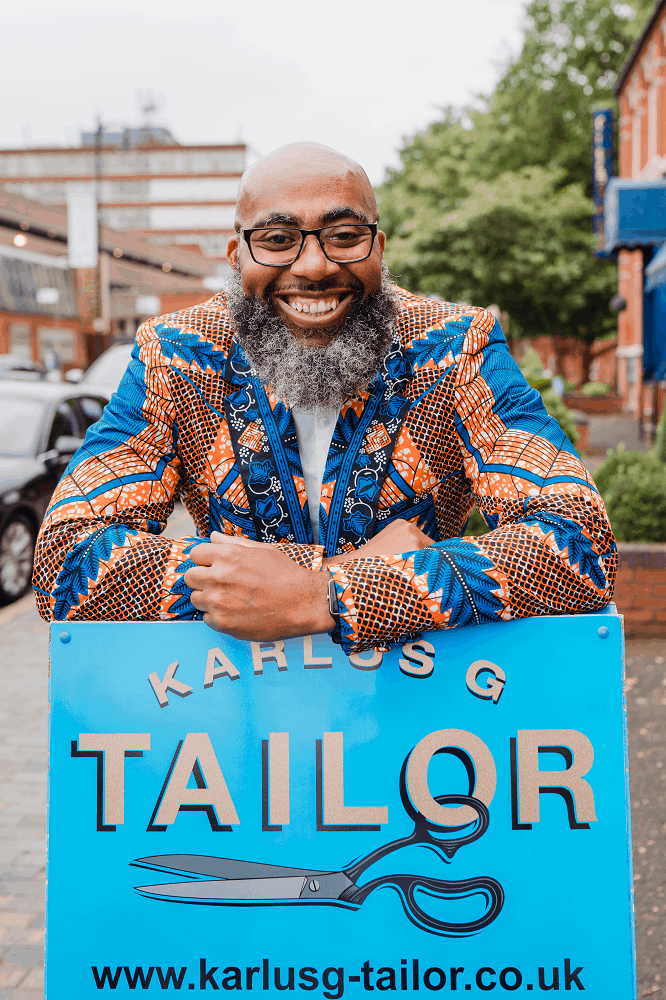 This article is from our latest issue of JQ Life. See our website to read the full magazine online for free.
---
In every issue, we invite members of the JQ community to tell us about their JQ in their own words.
Name: Karlus
Business: Karlus G. Tailor
Job Title: Founder
Years Worked in the JQ: 11
In this issue, Karlus, owner of bespoke tailors, Karlus G. Tailor, tells us about his journey to the JQ and his plans for a future here.
"Sewing wasn't my first passion. I'd always wanted to be an architect, and even did my school work experience in an architect's office. But when I realised I'd have to do seven years of training, it suddenly wasn't so appealing! So, when I left school, I randomly enrolled on a TV and Video Services course at the college I wanted to go to, as they didn't do the business course I fancied. It wasn't for me and I soon dropped out. I then decided to enrol on a business course at a college near to my house instead – or so I thought. When I arrived at my new college to enrol, I bumped into a childhood friend on the steps. He'd just signed up to a tailoring course and he encouraged me to do the same. That was in the September. By December, I could make trousers and shirts. I found my school work experience helped with me learning to pattern draft which is part of the tailoring journey.
You could say sewing is in the blood. My mom, my aunty and my sisters all sewed, and my brother did alterations for his friends too whilst at school. Even our dad's best friend was the local tailor who lived down the road. I would watch him work when visiting. I never thought that one day I'd be doing the same job, but I always felt a vibe when I was there. While at college I asked my mom to buy me a sewing machine and I practiced every night, seven days a week. I was determined to be the best. I'm still using that sewing machine now. It's been with me on my whole tailoring journey so far.
When I finished college, I worked at a few different places doing alterations where I took on as much sewing knowledge as I could, but I was never completely satisfied working for other people. I was always sneakily making outfits at all my previous jobs. I've always liked to make things that go against the grain and are not quite the norm. I love to create. If you go to Savile Row for a suit, you'll tend to get the house style. I always tell my clients that it's their garment and they can basically have anything 'within reason' so to go out and look at styles they like. It's all about creating the best experience for them, not just creating something that I'm comfortable with.
That's why I decided to set up my own business. We also felt Birmingham needed a place where people could go to buy quality bespoke garments at an affordable price point and also have garment alterations carried out by people who actually understand how clothing works. My sister, Hilary, had already worked in the JQ previously and she agreed to get on board. We found a spot on Spencer Street and that's where it all started.
The place to be
I only lived 2 miles away from the JQ, but I had never really been here before I opened the studio. I didn't know what a great area it was. It made sense to me to open a bespoke tailor's studio in the Jewellery Quarter – while people are coming to pick up their wedding rings, they might come in to have their suit made or altered too. After 6 years almost hidden away on Spencer St, we outgrew the studio and found a fantastic larger space on Vyse Street. We're now even closer to the jewellery retailers in the Quarter and easier to stumble across. It's certainly paid off.
I now know that the JQ is the place to be. It's an amazing place. You can still enjoy being close to the city centre, but also enjoy the close community here. Most people who work here have been through our studio at some point. I hear my name shouted on the street more than I do in the area I grew up in! That's how tight and friendly the community is.
A new challenge
I was actually pretty happy at the start of lockdown – it's the longest break I've had in 30 years! I got jobs done that I'd been meaning to get done for ages, and no calls and emails meant I had the opportunity to relax.
When Hilary and I got back in the studio, it made sense to use our skills to make face masks. We had a few sales early on and then a few decent size orders from schools. The only problem for me was that I really dislike repetitive work. At one point, we made 200 face masks in a week!
The usual requests have picked up again now, but it has been hard. We make garments mainly for weddings and special occasions, so we basically lost all our bespoke garment orders for the year. The situation got me thinking about different ways of working in the future. We've always flirted with the idea of having our own clothing range, more sporty and casual, and maybe an accessory line. Watch this space!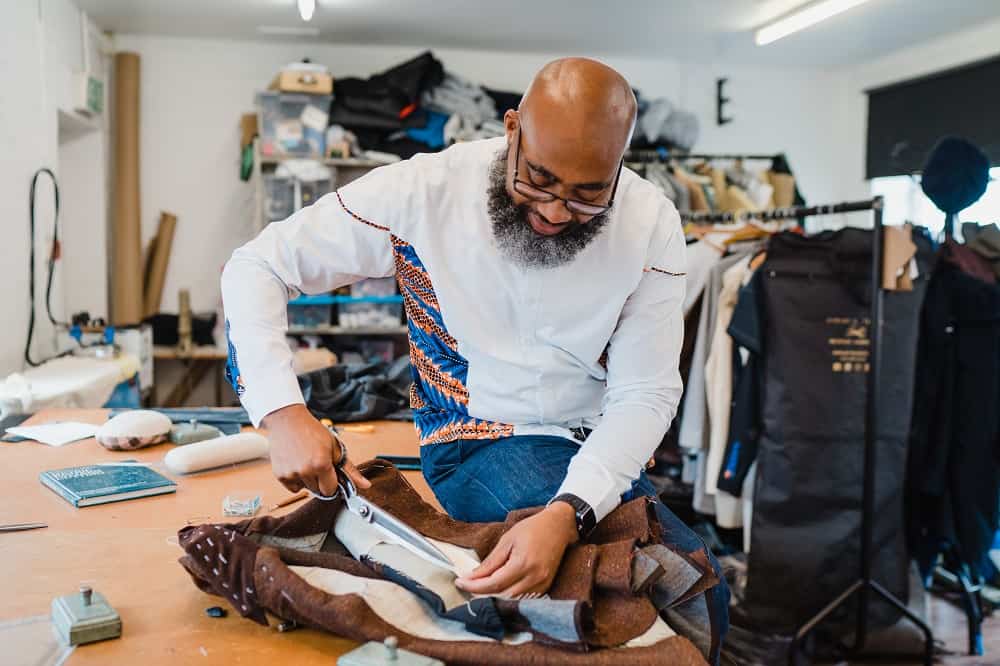 What's your most memorable project?
I never like to turn a project down. Once someone came in and wanted a boiler suit made out of faux leather with a one inch foam filling similar to a really thin crash mat, made for judo players so they can practice throwing each other. It was really difficult to sew, but I started it, so I had to finish it. At one point, I was stitching it, while my sister and another friend were holding it in place. I got it done in the end but I'm not doing another one!
Favourite place to spend an evening in the JQ?
I don't really get to a lot of places because I'm so busy! But when I do, I love the live music scene at The Jam House.
Favourite place to eat in the JQ?
I always enjoy Rebel Chicken. I can smell the food from my studio window when it's cooking. I'm also a fan of Devon House. If I'm getting a takeaway, then Portland Lagoon is great, or for a sweet treat, Bake Even Cakery.
Businesses you love in the JQ?
B18 Leather, Feed My Creative and Dolls of Decadence are all great. I also have to shout out Back Track Chiropractic, who worked wonders on my lower back pain.
Is there anything you'd change about the JQ?
We're missing a nice clothing boutique. Or a space where more of the new upcoming designer makers can sell their products all the time and not just have pop ups. I'd also love to see the Open Studios event run in the summer, instead of the colder months. It's a great opportunity for the public to come in and see what all the makers are doing.
To find out more about Karlus G. Tailor, visit karlusg-tailor.co.uk. Call 0121 603 6114, email info@karlusg-tailor.co.uk or visit the studio at 17F Vyse Street, B18 6LE.
Quote 'JQ Life' to receive 10% of your bespoke order.