GemPort Jewellery Competition – design by kids for their parents!
Reading Time: 2 minutes
GemPort Jewellery launch a one-of-a-kind competition for kids to design their very own jewellery, as a gift for their parents!
We all know how creative children can be and is there anything more exciting than seeing your design brought to life? GemPort Jewellery is offering children the chance to see their design cast and created in their in-house jewellery workshop, as a gift for their family. Worth up to £330, the resulting intricate piece will be handcrafted in silver.
Children under 16 are invited to send in original design ideas for heirlooms and keepsakes that represent their love and appreciation for their family, parents or carer. The winning entry will be cast in silver, preserving the original design for generations to come as a future heirloom.
Joanne Turner from GemPort Jewellery was inspired to launch the giveaway after her own daughter gave her a beautiful pendant design as a Mother's Day gift. Joanne was greatly touched by the original hummingbird drawing, designed as a symbol of love, by her 14-year-old daughter Alisha.
"Alisha drew a pendant with a mum and baby bird. Its meaning was to reassure me at a time of home-schooling and uncertainty. I wanted to share the love and put a smile on another parent's face. What better way to do that, than get the kids involved too?'

As a mum and family business owner, I find the uncertainty emotionally draining. The strain is taking a toll. That's why I am launching this competition. I want to celebrate how special parents are and how creative kids can be. I want to celebrate the family bond. The winner's parent will receive their unique design cast in silver in our workshop in the Jewellery Quarter. We want to hear what makes a mum or dad special, why they'd love this bespoke heirloom."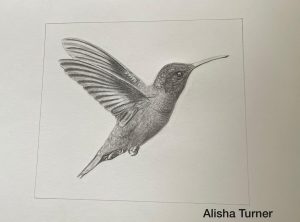 Joanne is the founder and managing director of GemPort Jewellery Ltd, an award-winning jewellery business located in the Jewellery Quarter. They specialise in creating bespoke pieces in-house featuring unique designs, as well as repairs of watches and jewellery.
To enter the competition visit the GemPort Jewellery website to download the competition form to be completed and returned by 11 pm on April 30th 2021.