A Little Drop of Strength raises money for blood cancer charity
Reading Time: 3 minutes
On Thursday 14 May, Birmingham-based Fellows Auctioneers will list a special item to support blood cancer charity DKMS. A Little Drop of Strength necklace will feature as lot 20 of the Jewellery auction. This pendant is being sold to support the charity's mission to provide a matching donor to every blood cancer patient in need of a blood stem cell donor.
Entered to sale with an estimate of just £80, the auction house hopes to raise awareness of the crucial work undertaken by DKMS as well as giving people the opportunity to purchase a beautifully symbolic necklace.
Every 20 minutes someone in the UK is diagnosed with a blood cancer, such as leukaemia, myeloma or lymphoma and often a blood stem cell donation is the best treatment method to help give someone a second chance of life. Designer, social media influencer and DKMS ambassador Sally Hurman was inspired to create the solid silver, teardrop-shaped pendant due to her own very personal connection to the cause following her husband's diagnosis of blood cancer five years ago.
Sally, known to her social media audience by her handle Getting Stuff Done in Heels, uses her platform to regularly encourage her 75,000+ followers to register online with DKMS. Sally said:
Creating this necklace was a very personal labour of love! The shape was so important as it's a drop shape – that could mean many things to many people – it could be a raindrop or a teardrop – denoting that after the storm, new shoots of life, follow. And after the tears have fallen, how much better you feel after a good cry. Obviously, there is also a nod to the shape being similar to a drop of
blood, which has a deeper meaning for many people who are affected by blood cancer.

I support DKMS as they work tirelessly to help people with blood cancer get a second chance at life through recruiting stem cell stem donors. Each year, around 2,000 people with blood cancer have to look outside their families to find their 'genetic' twin and this is where DKMS come in. I have seen with my own eyes how former patients meet the person who has saved their lives. It is very powerful stuff.
Made in the UK, from recycled sterling silver, this necklace is a stylish accessory as well as an evocative token of love.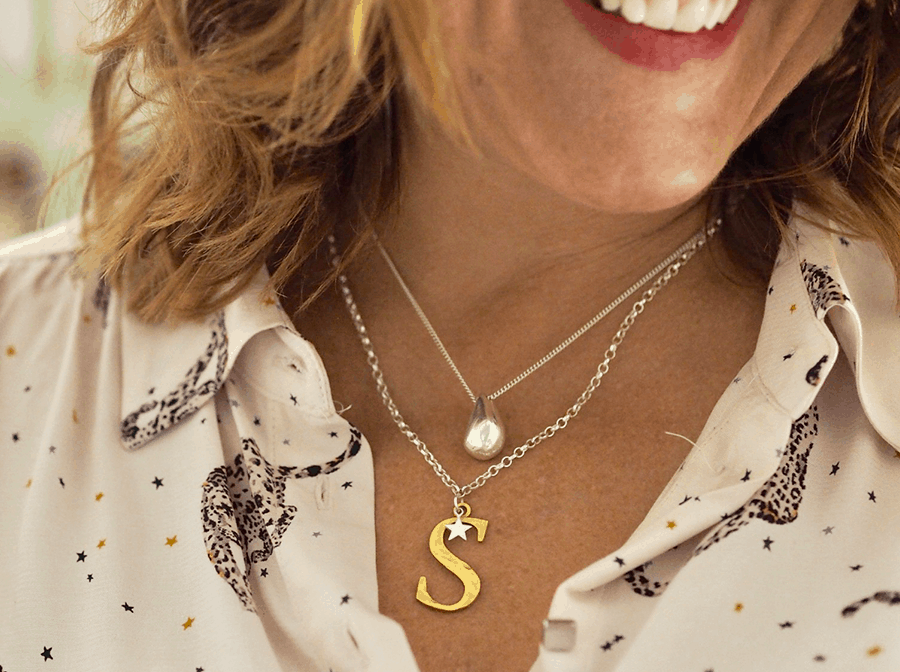 Stephen Whittaker, Managing Director of Fellows Auctioneers said:
We feel incredibly privileged to offer this extremely meaningful piece of jewellery to auction. Often, jewellery is symbolic but this is something else – it really has been crafted with love and its sale will help a lot of people. Every 20 minutes someone in the UK is diagnosed with blood cancer, so we are extremely committed to helping DKMS to tackle this indiscriminate disease. We're all hoping it fetches a good amount of money for such an important cause.
It costs £40 to register one potential blood stem cell donor. DKMS relies on monetary donations to help cover this cost. Whilst the NHS is very supportive, it falls to charities like DKMS to reach out to potential lifesavers.
Please support Fellows Auctioneers in helping DKMS register more potential lifesavers.
All proceeds from this lot will be sent directly to DKMS. Fellows will waive all auction fees, as well as donate all buyer's premium directly to the charity. If you are aged between 17-55 and in general good health, please register for your home swab kit online at dkms.org.uk.
The Jewellery auction will take place as an online only auction on Thursday 14 May from 10am.