Valentine's Day in the Jewellery Quarter
Reading Time: 6 minutes
Valentine's Day is a special occasion for couples to celebrate their love and affection for one another. The Jewellery Quarter in Birmingham offers a unique and charming destination for those looking to make their Valentine's Day extra special. 
The Jewellery Quarter is also home to a wide variety of independent jewellery shops and boutiques, offering a diverse selection of unique and handcrafted jewellery. Whether you're looking for a special piece of jewellery as a gift or just browsing, the Jewellery Quarter is sure to have something that catches your eye.  If you are looking for a unique gift why not pick up or download a copy of the  JQ Shopping Guide, or check out our recent alternative gift guide.
In addition to the jewellery shops, the Jewellery Quarter also offers a range of other shops, cafes, bars and restaurants. This means that even if you're not looking to buy jewellery, you can still enjoy a romantic day out with your loved one. The Jewellery Quarter is a fantastic destination for couples looking to celebrate Valentine's Day in a unique way. There are also some great options for Galentines and those still looking for love!
13th February 2023
It's not too late to find yourself a date this Valentines! 
Head to Rose Villa Tavern this valentines for a BRAND NEW speed dating night.
Entry is completely free (with a complementary drink on arrival). 
There will be 5 minute dates with someone completely random and at the end you can decide whether you would like to date again… who knows, you might find your match this valentines. Spaces are filling up really quick and only a limited amount are available. Book your free space via instagram message or email at info@rosevillatavern.co.uk. This event is LGBT+ friendly.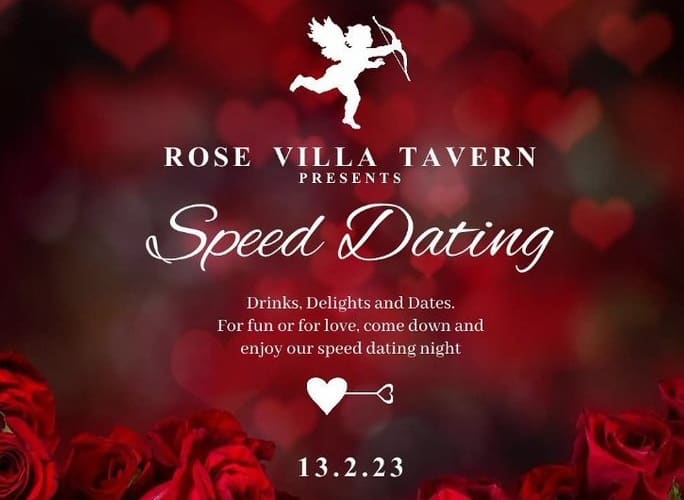 Introduction to Portraits in Oils Workshop – 14th February from 11am til 4pm
A different way to spend Valentines Day with your special someone could be learning to paint together. This workshop will provide you with the basic tools and techniques necessary to painting portraits with traditional oil paints. £60 -£65 per person. Book for this workshop or any of their other Winter Workshops (running until 25th February) online here.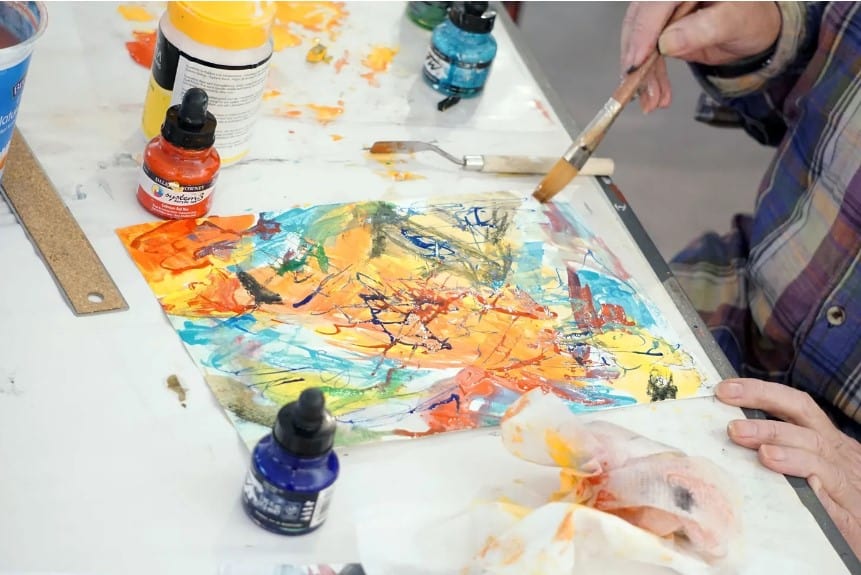 Vital Signs Launch Event – 14th February from 2.30pm – 3.15pm
Prefer looking at art to having a go? Artist Judith Alder will be talking about the processes leading up to her solo show, Vital Signs at the RBSA Gallery, and the themes of the work inspired by Science fact and fiction. Book your free place here.

Valentines Weekend (including 14th February from 6pm)
Whether you're boo'd up or making it a galentines, Bantu have got you sorted this Valentine's with a free glass of prosecco on arrival for 2 and 20% off the 2 course set menu od delicious African cuisine. To book call 0121 212 2688 or send an instagram DM.
Bantu also have dates available through Febrary for a special Couple's Dining Package by Twain which includes food, gifts, a love conversation game and couples photography. Book only via Eventbrite.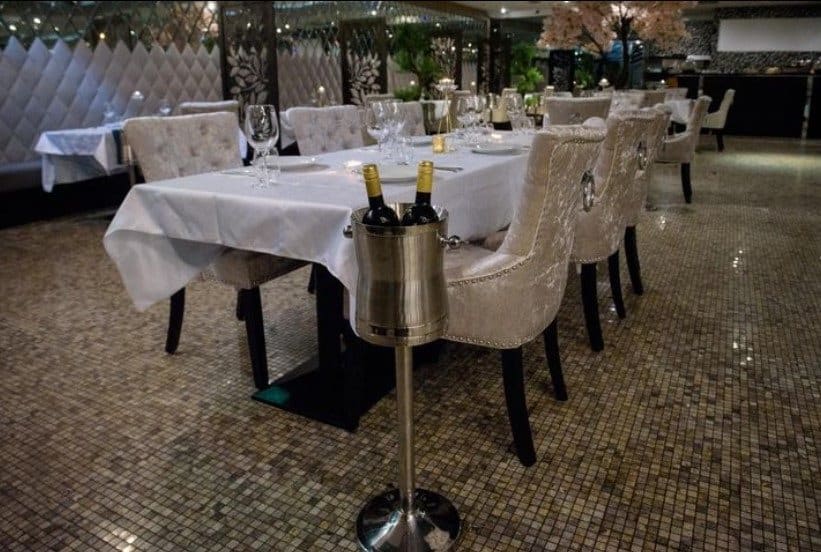 14th Feburary 2023
This year surprise your sweetie with a three course meal made with love at The Church. The Valentines Sharing Menu is just £69 for the both of you including a glass of bubbly on arrival. Bookings are open on the website now.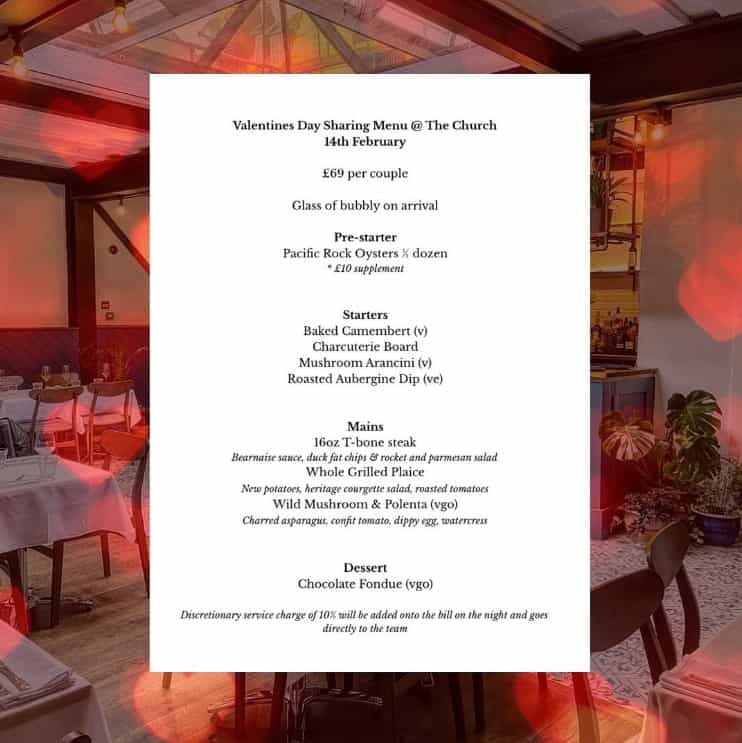 9th February 2023
Another romantic option would be their Cheese & Wine Flight event, delight your tastebuds with a classic cheese and wine pairing in the heart of the historic Jewellery Quarter. The perfect combination of tasty nibbles with paired wine, chosen by the expert staff at this beautiful Victorian pub. Book now via Yuup.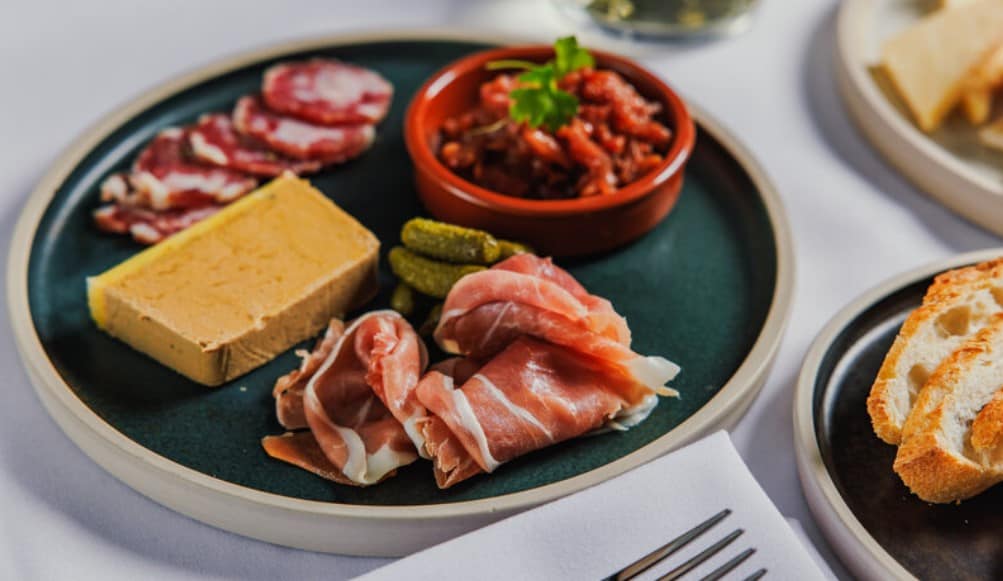 14th February from 5pm
Celebrate Valentines day with the one you love with a veritable Italian feast at Trentina. Enjoy all your favourite pasta dishes and small plates and wash it down with some of our great tasting cocktails. Don't forget to save room for Tiramisu! Book online now.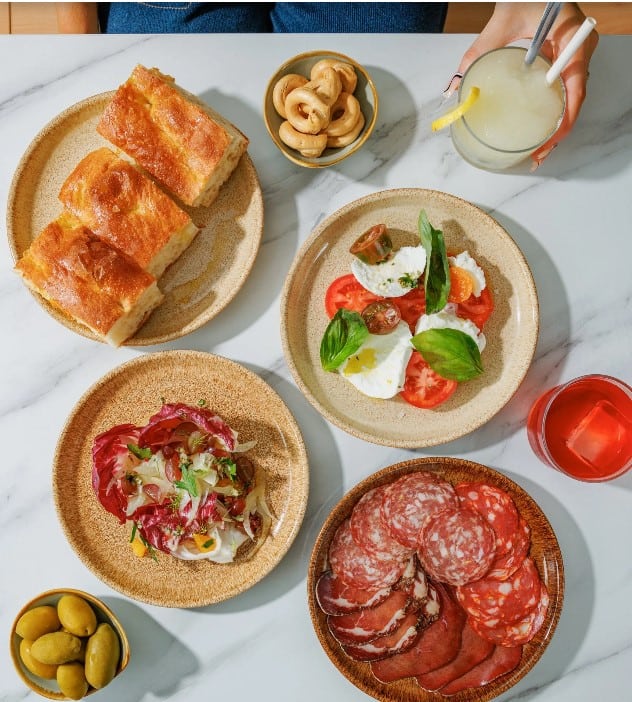 14th February 2023 with a limited availability
Pig and Tail have created a sharing platter of GupShupBakes bread, Dunwood Farm beef, not to mention some beautiful prawns & mini desserts for you and your loved one to share. Available only on the 14th, with limited availability to make it extra special, this platter is £30 per person and will include a glass of wine on arrival. Email admin@thepigandtail.co.uk to secure this limited and rare event.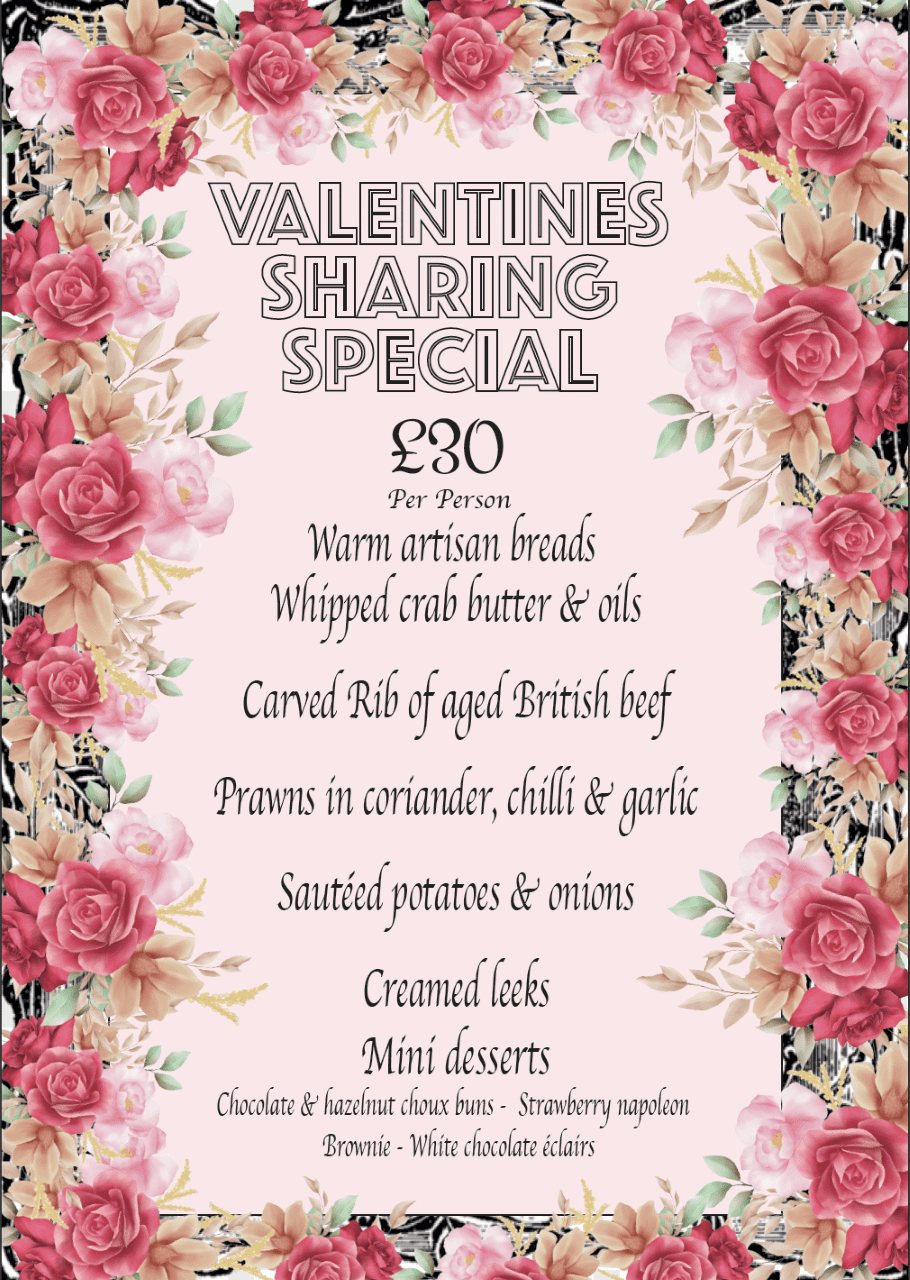 Valentines with the Tovey Brothers – 14th February 2023
This Valentine's 2023, it's all about celebrating true love & making up for missed memories. Book into the Jam House balcony restaurant for the evening to enjoy a special Valentine's menu accompanied by the incredibly talented musicians, the Tovey Brothers on stage that night. £120 per couple, including a bottle of prosecco.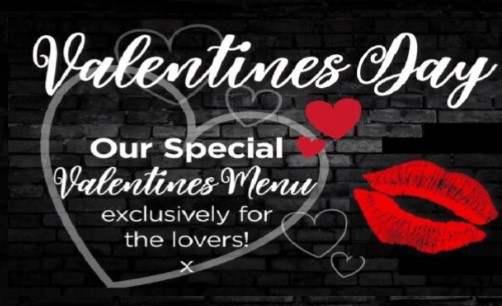 14th February 2023
Bask in Cucina Rustica's elegant setting and begin with champagne on ice while mulling over our exquisite Valentine's Day menu, featuring the best of Italian cuisine and inspired by their love of Italy and its food. They also have a fine selection of wines to accompany with your dishes that are sure to get the romance flowing. Whether you join us before or after your loved-up stroll in the Square, Cucina Rustica is perfect for a special occasion like this. Book a table now.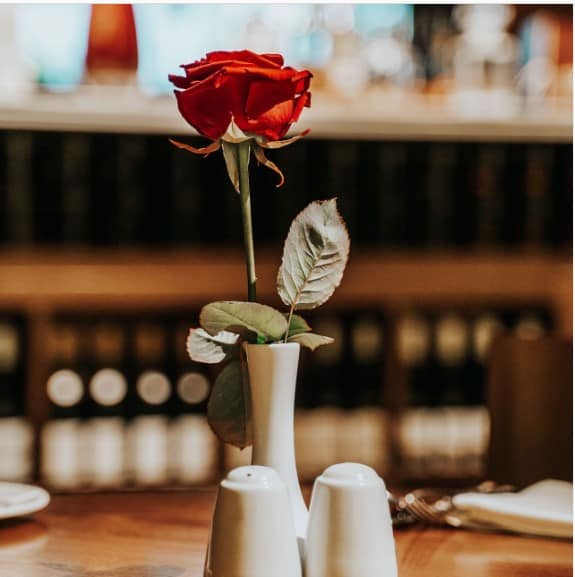 14th February 2023
Love is in the air…Their Valentine's Day menu features the best of Italian cuisine and is inspired by their love of the country and its food. The wine list is also sure to get the romance going with your dishes. Book a table online now.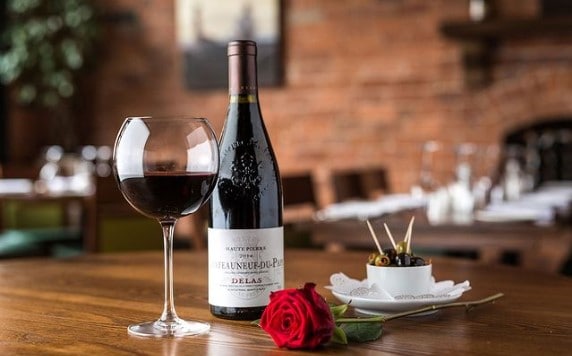 14th February 2023 for lunch or dinner
A signature 12 course menu, priced at £125 per person, packed with innovative and exciting food created using the highest quality of ingredients from sustainable and ethical suppliers. Please note, Folium are unable to cater for any dietary requirements for the Valentine's Day menu.
Bookings can be made online via their website.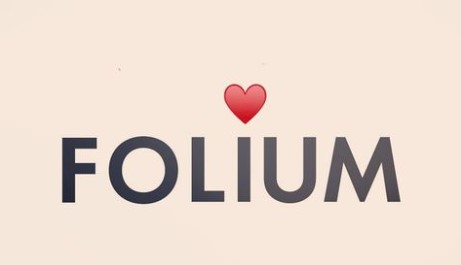 Canoodle x Valentine's – 14th February from 5pm
Celebrate or don't celebrate Valentine's Day with any three courses for £29 including a glass of fizz, courtesy of the old romantics in the kitchen, Canoodle. Bring your best small talk.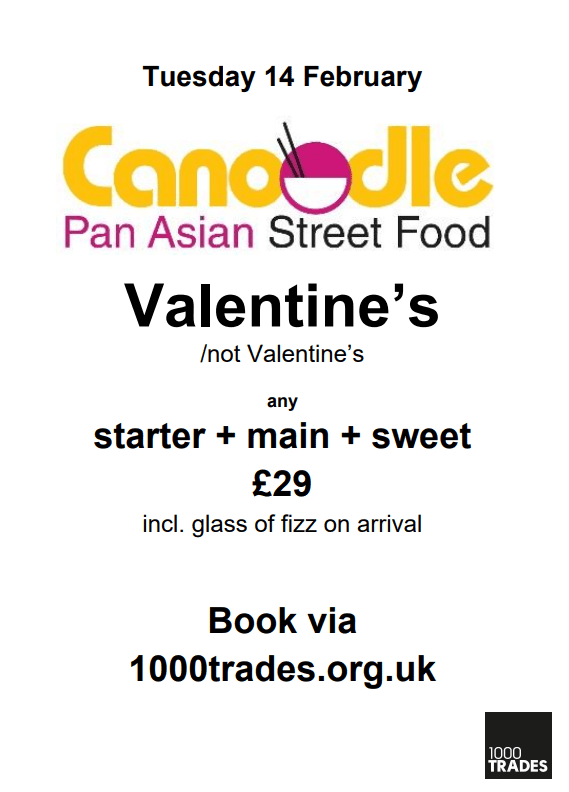 11th February – 14th February 2023
A special Valentine's Dine In menu is available, packed full of delicious Carribean options, 3 courses for £29.95 per person. Vegetarian options can be requested. Book via the website or call 0121 236 0519.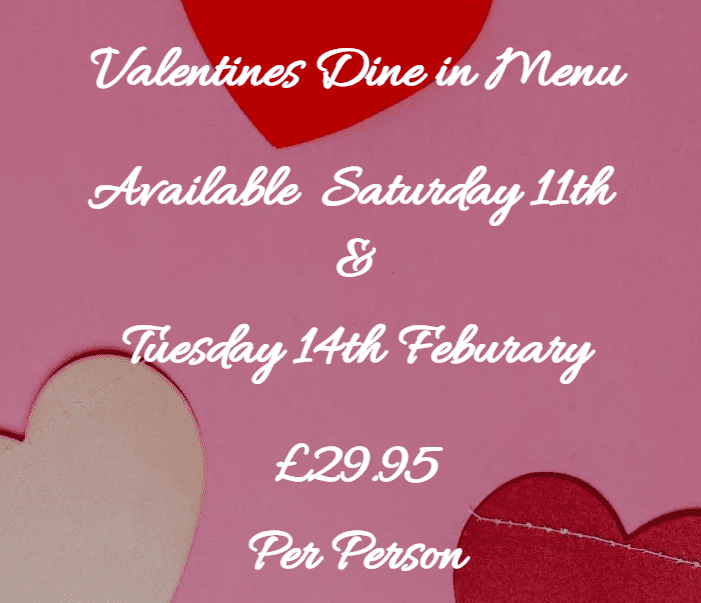 14th February 2023
Love is in the air at Tabu.  Dine, Drink and Dance this Valentines with live Entertainment, Dj sets, Pan Asian Cuisine and Cocktail Bar . Their Booths are getting a makeover as well to accommodate your Valentines needs. Drop them a message and they can guide you on how to book and customise a booth.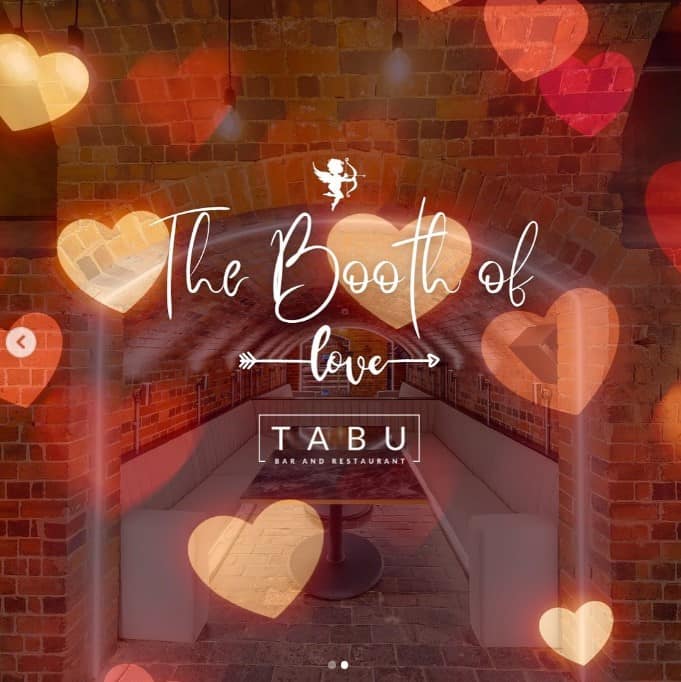 Friday 10th, Saturday 11th & Tuesday 14th, from 5pm
Champagne & Dreams! Enjoy a beautiful 3-course menu & a welcome glass of Champagne or a Kir Royal cocktail for £40 per person. Book your table online.