NEW ENTRY: JQ Open Studios Blog #6
Reading Time: 3 minutes
From now until the 22nd July, Tina Francis will be exploring the various businesses who will open their doors in this year's Jewellery Quarter Open Studios Trail. You can also follow the official @JQOpenStudios Twitter and join in the conversation with #JQOpenStudios. For further information about the Jewellery Quarter Festival 2016 please visit the webpage by clicking here.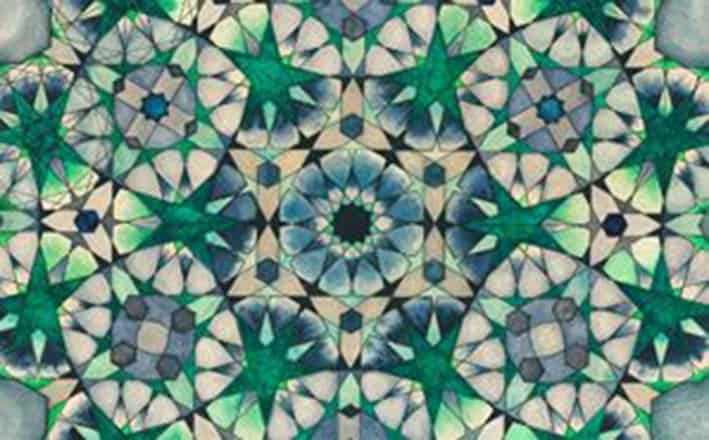 27th June 2016 – The Writings on the Wall (well, the art that is!)
There is enough arguing going on in the country at the moment. So, in this blog we are not going to raise the "what is art" debate, instead we are going to look at the studios and places in the Jewellery Quarter where you can see wall hung art during the Open Studios weekend (22nd – 24th July) and beyond.
Balance and line is something that is employed in both jewellery making and also the art of Hasret Brown in Regents Place. Using the geometry of traditional Islamic compositions she creates beautiful colourful geometric designs which draw you in to a world of mathematical harmony. Thinking about harmony and sound around the corner from Hasret in Northwood Street you will find St Pauls Gallery.
St Pauls Gallery is the worlds leading retailer in signed limited edition album cover fine art and always have over 100 signed prints permanently on display. The space in the gallery also houses fine art prints from Bridgit Riley, Andy Warhol and many more. Whilst you are in there seek out the late David Bowie's signature on album and photographic art work. You can, in fact, read more about the gallery in the latest edition of Quarter Life – the Quarter's dedicated magazine. Sticking with music, a visit to Visuale on Regents Place will see you greeted by prints of Tupac, Bob Marley and a host of other artists.
Visuale holds open studio events each month inviting you come up and see a growing range of artists work. For Jewellery Quarter Open studios you will be able to view artist Dee M's series "Reflections on the Pebbles" as well as work by other artists in a great mix of styles.
Whilst we said that we are not getting into an art debate, a trip down to Warstone Tattoo on Warstone Lane will show you how the art of tattooing can be the starting point for art pieces to hang on your wall. Billed as a Tattoo Art market you will be able to see how the intricate designs translate onto everyday objects and the inspiration behind bespoke tattoo art. After visiting all of these studios a rest and a drink may be in order, almost opposite Warstone Tattoo is The Red Lion; but once inside you will realise that we have not left the art behind.
The Red Lion is an Urban Art Bar and contains some fantastic art as well as some artfully crafted ales. The art does not stop inside as a trip to the beer garden will prove.
Next time we will back to Jewellery and three exciting galleries that have opened since your last visit!
To view previous blog entries please visit the official Open Studios Trail 2016 page by clicking here. For more about JQ Festival 16 please click the banner below: