NEW ENTRY: JQ Open Studios Blog #4
Reading Time: 3 minutes
From now until the 22nd July, Tina Francis will be exploring the various businesses who will open their doors in this year's Jewellery Quarter Open Studios Trail. You can also follow the official @JQOpenStudios Twitter and join in the conversation with #JQOpenStudios. For further information about the Jewellery Quarter Festival 2016 please visit the webpage by clicking here.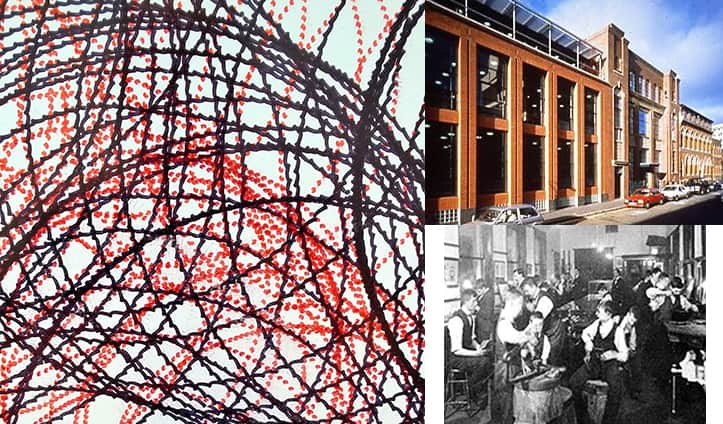 20th June 2016 – Starting at the Beginning
As you visit many of the jewellery and silverware designer makers over the weekend of 23/24th July, be sure to ask them where they trained. The answer from the majority will be Birmingham School of Jewellery.
Founded in 1890 the School of Jewellery is the largest in Europe and has trained and continues to train to makers and product designers of the future. This year for Jewellery Quarter Open Studios the School will be open on 22nd and 23rd July (It cannot open on Sunday) and alongside being able to take a look inside the school where tutors Dauvit Alexander (HND Jewellery and Silversmithing) and Sally Collins (BA Jewellery Products Course) will be running bookable workshops. On Friday 22nd the workshop will be in "Contemporary Jewellery Design" and on Saturday the workshop will be "An Introduction to Jewellery Making". The workshops are free but need to be booked in advance, click on the links to access the Eventbrite page. This will be a great opportunity for anyone interested in the art of jewellery and will also give you access to two of the tutors at the school. The building really is worth a visit in its own right to see how old and new can work together but with the addition of seeing students in workshops and the workshops this is a great place to start your Jewellery Quarter Open Studios trail.
If making is not your style and you would prefer for others to do it for you then why not pop along to Dual Works in Kenyon Street whose motto is "We make it so you don't have to". A different workshop but Dual Works member Zoe Robertson is also a member of the team at School of Jewellery, her successful exhibition Flockomania has flown to Parkside Gallery in Birmingham and to the International Music Tech Fest in Berlin this year. The second "half" of Dual Works is Sellotape Cinema run by Stephen Snell and Steven Chamberlain, they film onto you guessed it Sellotape but their work is about so much more than that. Last year a visit to Dual Works saw you immersed in large scale jewellery and being able to create your own art with the motor of a 3D printer. Make sure you visit again this time for more!
Join the School of  Jewellery from 5pm before, or after, heading to Golden Square for the Jewellery Quarter Festival opening night.
School of Jewellery open – 22, 23rd July 10:30 – 16:00
To view previous blog entries please visit the official Open Studios Trail 2016 page by clicking here. For more about JQ Festival 16 please click the banner below: