Visit Birmingham's Christmas campaign boosts city's festive profile
Reading Time: 3 minutes
Birmingham's Christmas campaign, run in partnership with national tourism board VisitEngland, has succeeded in raising the profile of the city during the competitive festive period, attracting record numbers of coach visitors, achieving a 60% rise in press coverage and helping to boost hotel occupancy.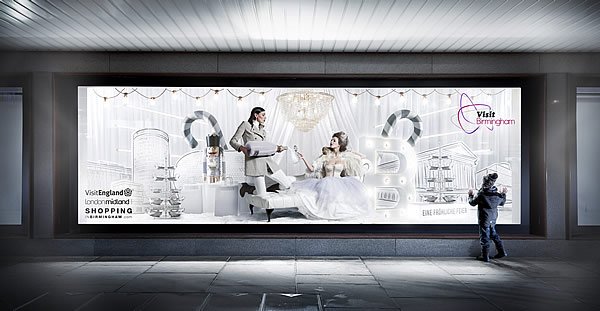 The collaborative campaign led by Visit Birmingham, 'Open for Christmas', aimed to position Birmingham, the Black Country and Solihull as must-visit destinations offering a unique festive experience. The city's destination marketing agency joined forces with over 15 partners, including Retail Birmingham and London Midland, to deliver the integrated marketing campaign comprising national and regional advertising, door drops, creative PR, digital, social media and radio promotions with voiceovers from Birmingham-born film star Julie Walters.
The campaign delivered strong results, generating nearly £850,000 in positive media coverage across international, national and regional titles with the number of articles increasing by nearly two thirds from the previous year. Birmingham hotels enjoyed occupancy rates of over 80% throughout the festive season – peaking at 85% in mid-December – with revenues up by 11% compared to the same period in 2011. Bookings with Visit Birmingham's 'Meet and Greet' welcome service also rocketed with 155 coaches and 7,332 passengers descending on the city's popular Frankfurt Christmas Market – a rise of 36% and 37% respectively – with enquiries to Visitor Information Services reaching 1.6 million, up from approximately 130,000 the previous quarter.
Emma Gray, Director of Marketing Services at Visit Birmingham, the city's leisure tourism programme, said: "Working collaboratively with partners has enabled us to pool the city's resources and deliver a highly successful Christmas campaign that has helped to boost the profile of Birmingham and the wider region during the competitive festive period.
"The 'Open for Christmas' campaign targeted visitors to spend a break in Birmingham during the festive period – record numbers of coach visitors, travelling from locations such as Teignmouth and Darlington, high hotel occupancy and increased enquiries to our Visitor Information Services demonstrate that Birmingham is growing in popularity as a festive destination.
"Our fantastic retail offer, acclaimed dining scene and world-renowned events such as the Frankfurt Christmas Market – attracting in excess of three million visitors a year – has, once again, pulled in scores of visitors to the city this Christmas, helping to build on Birmingham's record visitor numbers which have risen by 10% over the last six years."
 A dedicated microsite www.christmasinbirmingham.com, launched to help visitors plan a fun-filled trip to the city during the Christmas and New Year period, received over 200,000 unique visitors. The festive site featured innovative content including visitor itineraries, online competitions, an interactive advent calendar and a range of infomercials featuring leading Birmingham personalities revealing their insider tips for the perfect Christmas. Views of Visit Birmingham's online advent calendar increased by 10% compared to 2011, while a range of promotional offers and competitions helped grow the social media base by over 10% in just three months. In total, the marketing campaign reached over 16 million people from October – December last year.
Highlighting the city's unbeatable shopping offer, the 'Open for Christmas' creative featured a festive retail window display nodding to the city's unique selling points at Christmas – over 1,000 shops within a 20 minute walk in the city centre, a world-class food scene, fantastic visitor attractions and the biggest Frankfurt Christmas Market of its kind in the UK. The campaign was in part funded by the Government's Regional Growth Fund and is part of a three year investment programme called 'Growing Tourism Locally', coordinated by the national tourist board VisitEngland.
James Berresford, VisitEngland's Chief Executive, said: "England is at its very best during the festive period and Birmingham boasts a unique Christmas offering for visitors.  It's no surprise that Birmingham is one of our most-visited destinations, with over 33 million visitors contributing almost £5 billion to the local economy last year."
The festive campaign is also supported by partners including Retail Birmingham, London Midland, Birmingham City Council and the city centre's Business Improvement Districts – The Jewellery Quarter, Brindleyplace, Broad Street, Southside and Colmore Business District. A range of visitor attractions, shopping destinations and local businesses have also backed Birmingham's latest Christmas campaign including The Mailbox, Aston Manor Brewery, Birmingham Museums Trust, New Alexandra Theatre Birmingham, Birmingham REP, National Sea Life Centre Birmingham and Cadbury World.