The Holy Palate Supper Club
Reading Time: < 1 minute
23 & 24 February 2023, 7.30pm
Produced by Kaye Winwood (Gulp) and Matt O'Callaghan (Mangia! Mangia!) £50 for an unforgettable edible adventure
Leaning into the histories of Italian food and art, Kaye and Matt will be joining forces to bring you an extraordinary Supper Club which takes its inspiration from the 1930's Futurist Cookbook – La Cucina Futurista – whose eccentric ideas have informed much of contemporary gastronomy. I
Diners can expect a playful, artistic dining experience which draws on the Futurist Cookbook in a series of courses to reinterpret their 'formulas' (meals). The Futurists were pioneers of multisensory eating, their dinners were more than food, combining taste, aroma, texture, sound, poetry and performance to create a 'beyond the plate' food experience. This multi-sensory experience will take the diners on a gastronomic journey through a flight of delicious courses. Diners will delight in the reworkings of original courses that retain this artistic integrity and intention including sculpted peppers, exploding scents, blindfolded tastings and puddings hidden within puddings.
Look at this amazing menu!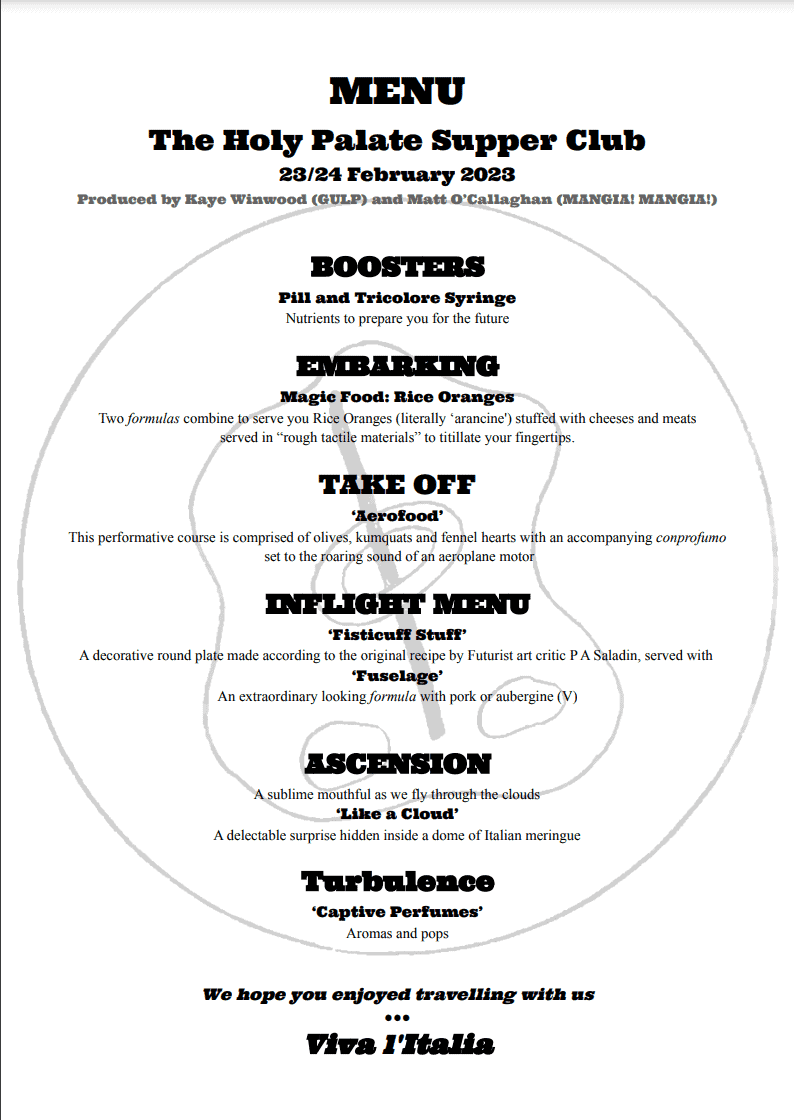 Places are limited so book early to avoid disappointment. Book via Eventbrite.
Gulp, Unit 9, First Floor, 58 Spencer Street Jewellery Quarter, Birmingham. B18 6DS