Opening a barbershop in lockdown
Reading Time: 4 minutes
Starting any new business is no easy feat, but starting one in lockdown, is a whole different ball game. We met up with Matty Paul, now proud owner of Barber Therapy – a revolutionary new barber shop situated on Spencer Street in the Jewellery Quarter – to discuss the trials and tribulations of starting a business in lockdown!
Introducing Barber Therapy 
I've been working in the barbering industry now for 17 years, working in various shops across the West Midlands. These places varied drastically from 'old school' traditional barbershops, all the way through to high-end unisex hair salons. It was important to me that I varied the places that I was cutting hair in and also, more importantly, that I varied the people who I was learning from.
I think constantly challenging yourself is absolutely key to personal growth. Through working with and meeting so many different kinds of people, from so many different backgrounds, I've been able to develop an understanding of all kinds of hair styles. It's also taught me how to understand people more.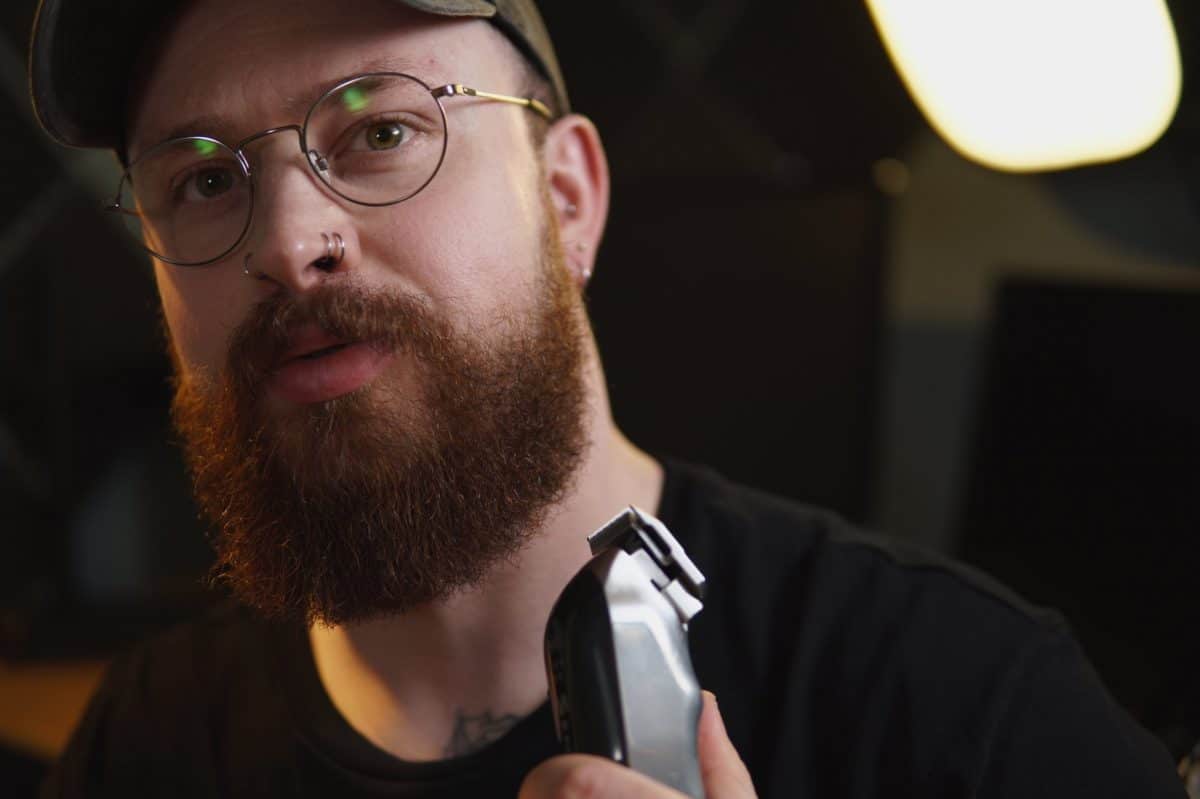 Building a rapport with my customers is my number one value. Learning about them as a person better helps me to understand what they want from their hair. I'm more aware of people's professions, their hobbies and their values, probably more than they are! A lot of the time they find it hard to articulate exactly what they want to achieve with their hair, so it's my job to decipher their words and gestures.
During the lockdown, I came to the conclusion that I needed to provide a completely secure and safe space for customers to come and enjoy a one on one hair experience. I've always had such a close relationship with my customers, that their appointments would be more than just haircuts, they would be therapy sessions.
This is where the idea for Barber Therapy came from. To give people their own time slot to come in, relax and experience the very best in mens hairdressing. To be able to laugh out loud, or have a moan about their day. There aren't a lot of services that men use that provides them with this kind of experience and I think it's important to champion this. I'm always very aware of the positive benefits that grooming can have on a man and the mental health benefits it can bring. It's important to talk. That's why our tagline is 'Feel Badass'. We want you to leave feeling like you could take the day on headfirst and achieve whatever you set out to do. The more people I can positively influence, the better.
Sometimes visiting the barber is more than just a haircut – it's a therapy session. A confidence boost shot in the arm when you need to feel at your absolute best. We want to make you Feel Badass inside and out.
On lockdown…
Opening a business during the lockdown period gave me some real hurdles to jump over. The estate agents were still closed when I was searching for a property. Therefore it was impossible to conduct any viewings, so all I could do was just 'show interest'.
This limbo was tricky to deal with as I only had four weeks to find, renovate and then open my shop before the 4th July. So I worked towards this date, even though it was subject to change at any time. I knew that by hitting this date would be of utmost importance for me to having a good start as a new business.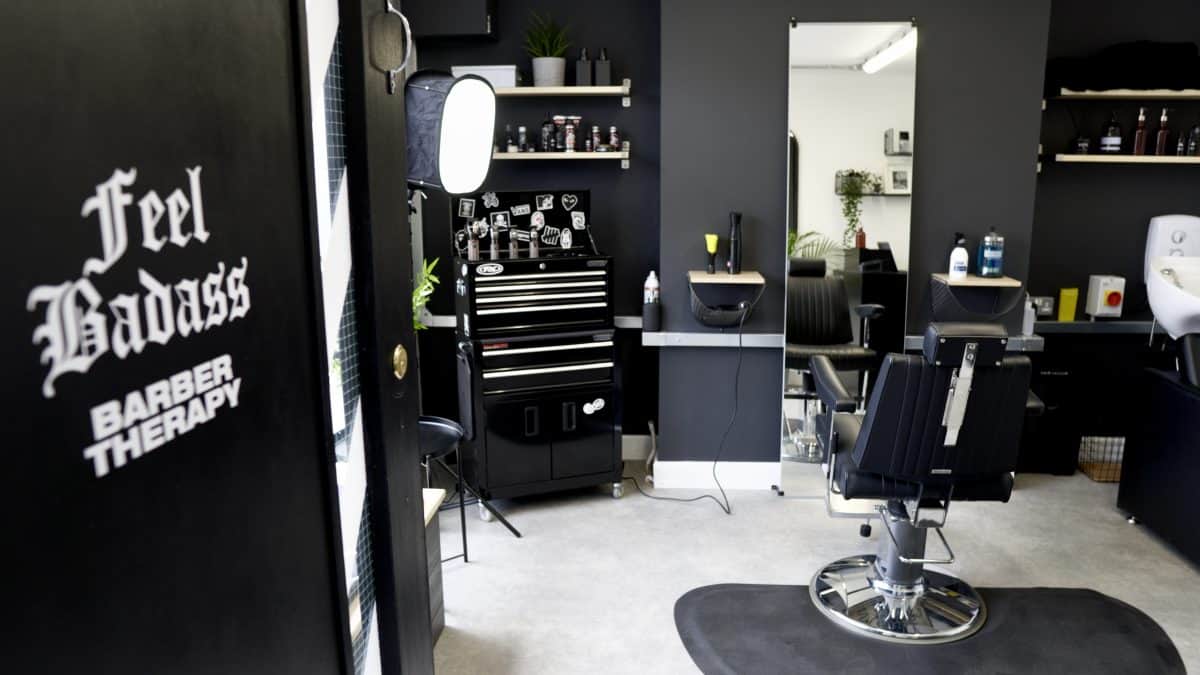 After securing the property, the hardest task we faced was trying to find good tradesmen. In fact it was near impossible to find any tradesman. We needed plumbing, plastering and electrics. The full works. Thankfully after non stop calls and pestering, I managed to get the workers I needed to get the shop up and running.
With my Father having an engineering background, he became a massive help to me and understood exactly what needed to be done to get the shop up and running to the high standards we set ourselves. But just as we were finding our feet, the lockdown then created a lot of problems which we hadn't foreseen. Simple things like sourcing shelving and mirrors. Or finding barbershop furniture (such as barber chairs or backwashes) which was even harder to come across as factories had temporarily closed.
There were some very long nights trying to source these pieces from around the country. We literally managed to get everything in and ready the night before we opened – it was that close.
On the Jewellery Quarter…
The Jewellery Quarter was always at the top of my list when it came to searching for somewhere to open. My wife has worked around here for years and I've travelled in and out of the JQ pretty much every day. I really enjoy the independent vibe I get when walking around here. You see a lot of smaller businesses that specialise in everything from jewellery making, to baking.
Spencer Street is a great place to be situated as it's just off the main high street. The train and tram stop is just a two minute walk from our front door and we have on street parking directly outside the shop.
The building we're in comprises numerous independent businesses. There is a highly popular tattoo shop upstairs, a gluten free vegan bakery next door, two painters and artists work in the building and there are also two jewellers and a beautician that's moving in. It's a great little hub for people to come and visit. We have the main shop at the front of the building with a great big window for people to come and check out whenever they pass. It really is a great vibe here.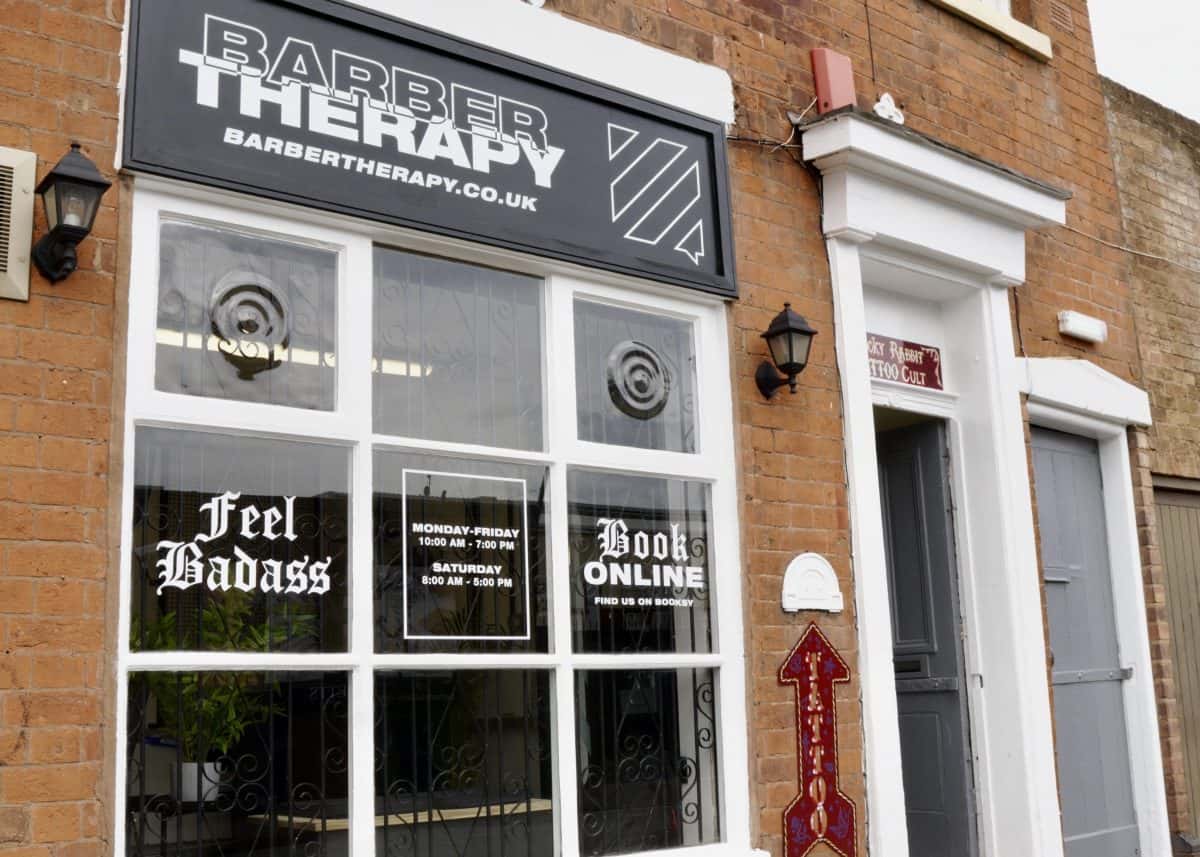 Book in with Matty P today
You can book an appointment with Barber Therapy directly through Booksy, barbertherapyuk.booksy.com or by visiting: barbertherapy.co.uk. Make sure to follow Barber Therapy on Instagram too: https://instagram.com/barbertherapyuk.