JQ Festival Open Studios Blog
Reading Time: 33 minutes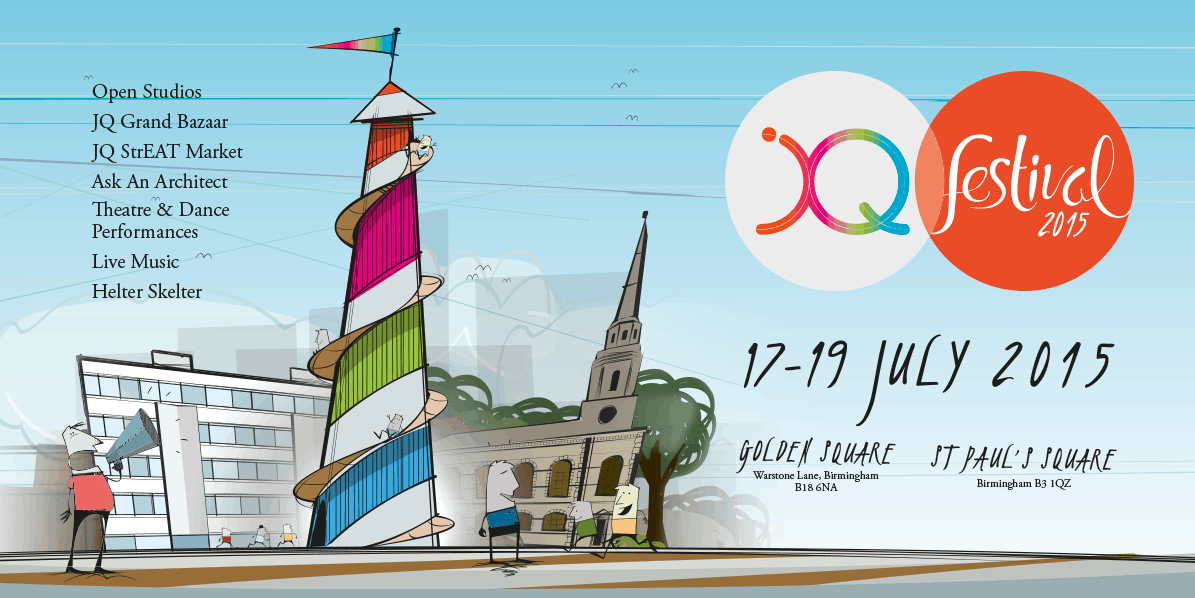 From now until Birmingham's Jewellery Quarter festival, Tina Francis will be bringing you the latest insights and updates about the Open Studios Trail. You can download the trail dates to your calendar here. Tina is a tapestry maker and resident of the Jewellery Quarter, for more of her work you can follow her on Twitter. For general news and updates about the Festival and other BID organised events you can follow BID Manager, Luke Crane, here.
(20/07/15) THANK YOU!!

Thank you!!
Thanks to all who came to the first Jewellery Quarter Festival and especially those who came to the Open Studios.  It really was a great weekend and good to meet locals and visitors to the Jewellery Quarter alike.  We'll be back so watch this space!
Did you attend? Send us feedback and you could win £100 to spend in the JQ or two tickets to the VIP Launch of Phil Tufnell's TUFCAT, see here.
(17/07/15) Final footsteps!
So tomorrow is the day the Open Studios start but tonight from 5pm is when the Jewellery Quarter Festival begins with food, drink and light shows in Golden Square.  There will be lots more activities in the Square over the weekend and so today we are looking at Open Studios around it.
Britain Clockcase on Northampton Street (side of the Post Office) venue 22, is a family run clock-making business crafting the finest mantel and wooden clocks, see the workshop in full swing and talk to the family about the Jewellery Quarter old and new. After visiting the Golden Square carry on down Warstone Lane and see some of the finest jewellers Birmingham has to offer and then take yourself to the auctions! Fellows Auction House venue 17 on Augusta Street, will be open for you to view the upcoming Vintage and Accessories Sale and also to give you a sneak peak of some of the Blue John pieces from a large sale later in the year. If you are still on the look-out for more Vintage then a short walk up Augsuta Street will bring you to Eldorado Vintage central Birmingham's only stockist of Annie Sloan Chalk Paint expect demonstrations and vintage finds galore.
Back on Warstone Lane at 199 you find two more studios in the same building.  Tip Top Photography, venue 20 is an exciting place to visit whether you are a keen photographer or just love to see the sights of the Jewellery Quarter.  They will be exhibiting images of the Jewellery Quarter in their large studio taken by members of their Photography Club.  With a wealth of experience in taking and making images get all your questions answered here!  Across the corridor you will find Beena Beauty and Male Grooming, venue 21, who will be showing you how to take away the stresses and strains of festival going.
If the festival in Golden Square is calling you back then once you have returned maybe cross the road onto Vittoria Street and visit the place where many of the jewellers you have visited training began, The School of Jewellery, venue 9.  Celebrating its 125th Anniversary this year take a visit into this fascinating building and see the current crop of student work and also artisan workshops from renowned alumni.
Fancy a relaxing drink from a local brewery? Then from 3pm until 6pm on Saturday Two Towers Brewery on Mott Street venue 39 is the place for you to wend your way to after a long day on the Open Studios Trail. A fun time will be had by all!
Of course we are expecting to see you on Sunday too so if you are visiting again do not miss the tea party at The Coffin Works where from 12 on wards you can enjoy workshops in yoga, furniture making, upholstery and demonstrations in Thai Chi and Drop Stamping.  It will be a great family day out with cream teas and a relaxing atmosphere.
There we go the last blog this year about the Jewellery Quarter Open Studios as part of the first ever Jewellery Quarter Festival; we really look forward to seeing you tomorrow and in the coming year for future events!
(16/07/15) Clusters
Clusters of gems and stones are what we are all about in the Jewellery Quarter so today on the Open Studios Blog we will be looking at Studios that are clustered together.  We left you with a lemonade in hand at The Jewellers Arms but today we start out trail back at Jewellery Quarter Train Station.  Turn right and walk along Vyse Street until you see Warstone Lane Cemetry, this cemetery is home to catacombs and important memorials, you'll be walking through here after visiting our first cluster of Open Studios in Pitsford Street.
Visionary Glass, venue 27, is your first port of call, where you will find a stunning range of contemporary fused glass feature mirrors and opalescent wall art.  Be sure to take a look into his studio and see the workshops he has on offer.  Behind Visionary glass is a secret garden! Really! Garden designer Christine Barve, venue 29, has created a pop up garden to show how an unloved corner can become an urban jungle!  Some of the sculptures on display belong to Mike Bigland, venue 30, who is at Unit 13 Pitsford Street, delicate flower shapes in stainless steel reflect the beauty and strength of nature.  In the same courtyard as Mike you will find Centrepiece, venue.  You will probably already be familiar with this group of makers who exhibit regularly at Birmingham Symphony Hall and have run their own jewellery Open Studios Trails in the past.  Eight makers will be exhibiting their work with regular stone cutting demonstrations.  There is a wealth of knowledge and experience in this group, ask questions listen to advice and walk away knowing a little more about jewellery craftsmanship.
After leaving the beautiful courtyard walk through Warstone Cemetry we are very proud of our new memorial bench in the centre, view the catacombs and stones and maybe even spot a Druid (he's buried at the far edge on Warstone Lane!).  Once through the Cemetry, cross the road and head down Tenby Street North and then left into Tenby Street. Visit Venue 15 and 14 here! Hub  (venue 15) is a multi-award winning creative design agency that specialises in in exhibitions, events, interiors and digital media. If you've ever wondered who designs the large stands at trade and retail shows around the world then Hub Studios is the place for you! Tina Francis Tapestry  (yep me!) is at venue 15, design led tapestry needlepoint kits and patterns, tapestry art and the start of my new solo exhibition will be on display. It will be great to see you and talk all things stitch and also hear your thoughts on the first all business Open Studios Trail. Leaving me with a cushion kit in hand(!) you will need something to put it on so just around the corner in Carver Street JDD (Joint Design Direction), Venue 16, will be waiting to show you their range of modular furniture.  Modern, sleek and clean are all words that come to mind with their designs.  Furniture designed and made here in the Midlands and exported across the World!
Our next cluster of studios is on Frederick Street, walk down Albion Street turn right and on Sunday visit venues 12 and 13! Crafts Collective run workshops around Birmingham as well as from their fantastic studio.  Vintage is the name of the game and their workshops are becoming a regular go to for crafty hen dos and children's parties. Upstairs is Gosia Weber regular visitors to Moseley Arts Market will be familiar with Gosias unique style.  Brightly coloured never repeated combinations are the mainstay of her handbag collections, she has recently moved into jewellery so be ready to see something new and exciting.  Gosia has a stand on the Grand Bazaar in Golden Square on Saturday so if you are only here for one day visit her there!
Just a little further down Frederick Street you will find the Pen Museum which will be open and also hosting its own summer fair.  Make your own pen nib, learn about the steel nib trade and marvel at the collections on display.  Special entry fee of £1 all day Saturday and under 16's go free. If you are visiting on Saturday then after the Pen Museum why not take a short stroll down to Graham Street and visit Ramgarhia Sikh Temple,venue 10.  Opening up is nothing new here as the temple always provides a warm welcome to all who visit, if the balloons are flying outside then you are free to enter and learn about Sikhism and the place the Temple has in our community here in the Jewellery Quarter.
As you leave Graham Street directly in front of you is Vittoria Street home to The School of Jewellery and at its end Golden Square where we will start our final round up of studios in the next blog!
You can find the map here!
(15/07/15) Street Style
Yesterday (or this morning!) we looked at Open Studios venues close to the city side of the Jewellery Quarter.  Today we will take a journey by arriving at Jewellery Quarter Train Station. Opened 20 years ago in 1995 (Happy Birthday!) the station provides a link to the centre of town stopping at Snow Hill and Moor Street and since the introduction of the tram a link into Wolverhampton, in fact if after visiting our Open Studios and Festival you want to see more Craft and Making then take the tram direct to Bilston Craft Gallery for exhibitions and workshops.
But it's the Open Studios that we will be looking at today after alighting you join Vyse Street one of the main arteries in the Jewellery Quarter. Cross over the road turn left and visit venue 23, Gibson Kochanek a commercial and creative portraiture photography studio run by two award-winning photographers.  On the same side of the road a little further down is where you will meet Karlus G. Tailor, venue 33, an exceptional tailor who will be in his brand new studio for the event.
Cross over the road and look for Hylton Street, this street really feels like old Jewellery Quarter and is full of studios and work places.  First you will see balloons outside Venue 34, Homer Creative http://www.homercreative.com/ producers of the fantastic Jewellery Quarter Festival guide.  As well as learning about this creative practice you will also be able to have a photograph taken in their PhotoBooth and spend a while crafting brooches and medals in their Craft Workshop.  Carry on round Hylton Street to venue 32, Becca Williams Jewellery, climb the stairs and be greeted by Becca in her light and bright studio and learn about her workshops and see her latest collections.  Sparklewren, Venue 31, will be exhibiting beautiful bespoke corsetry fine art and fine stitching all in one place. As you leave Hylton Street on your right is James Newman where jewellery is designed and crafted on site, a normal trading day ring the buzzer for entrance to the shop and the workroom beyond (if full you may have to wait a little while – it's worth it!)
Before heading back up Vyse Street cross the road and visit Museum of the Jewellery Quarter, venue 25, the free history exhibition in the foyer is always a big draw and maybe take a tour of the Museum itself (admission fees apply). Turn left walk back up Vyse Street, then down Spencer Street and visit two jewellers Julia Davenport and Rhiannon Lewis in the same venue numbered 35 and 36. See their latest collections and learn about setting up your business after leaving college. Jewellery and accessories in perspex cut on laser machine named Bertha will greet you at Frilly Industries venue 26.  Still want more jewels? Over the other side of the island is Guildsman Jewellery Gallery http://www.guildsman.gallery/ venue 37, still being renovated it's a great time to visit this exciting space and see traditional jeweller crafts being demonstrated as well as learning about their future plans. Before treating yourself to a well-earned rest at The Jewellers Arms (don't forget to look at the old photos of the Jewellery Quarter on their walls) visit PCPT Architects, venue 43 and see what it takes to run an award winning practice with over 50 years of experience.
So we will leave you now soaking up the sun lemonade in hand outside the Jeweller Makers (it is a real suntrap) and will return tomorrow with more studios to visit and also look at what will be happening in the Golden Square.
Here's a link to the map!
(14/07/15) Street by Street!
Today we are going to start looking at the map and what is happening street by street! In time honoured fashion we will be starting at venue number 1 but it will not follow numerically because where would be the fun in that!
Coming from the city side either up Ludgate Hill or from Snow Hill underpass/railway exit your first port of call should be venue number 1 aka The Wonderful World of Trains and Planes in Mary Anne Street, a model enthusiasts dream this place is full to the brim of all things motion.  Look out for personal touches by the sides of the tracks and in the caves! Just down the road is St Pauls Square home to three venues, Venue 40 is home to Space Studio who are opening a building they are currently working on and displaying BCU School of Architecture year end work. Venue 2 is the Church after which the square is named where you will receive a warm welcome and Venue 3  is the RBSA, fantastic art and craft gallery showing everything that is great about local art and beyond.
Around the corner from RBSA is venue 42, Stans Café, no it's not time for a sit down just yet Stans Café (pronounced caff) is a group of artists from a variety of disciplines, though primarily theatre practitioners, working under the artistic direction of James Yarker. Expect the unexpected!  St Pauls Gallery, venue number 5, is "right behind you" where you will be treated to the world's largest collection of limited edition signed album prints.
Walk past Bloc Hotel and you will be back on Caroline Street where Artisans at 85, venue number 4, will be waiting to show you around an exciting new gallery and jewellery workspace.  Next door is Harris and Gibbs who you will be able to meet at the Grand Bazaar on Golden Square.  Venue 6 further up Caroline Street is where you will find Glass Monkey Designs where you will be able to see sandblast etching.  Over the road is Mary Street home to Black Country Atelier, venue 7, who will be talking 3d printing and scanning and all things CAD.  If you prefer to be more hands on Brian Priest Newman will be opening their loading bay and inviting you to play crazy golf!  After your sporting exertions why not create some art at Dual Works on Kenyon Street or look at large scale jewellery sculpture?!
So a little whistle stop tour come back tomorrow for our next crop of venues starting from Jewellery Quarter Train Station!
(13/07/15) Beauty & Exhibitionists

So we are in the final week leading up to the first Jewellery Quarter Festival and also the first time that Open Studios here in the Jewellery Quarter have included other trades and makers.  We are spread over quite a large area so after walking and visiting why not take some time to see what pampering treatments are on offer at Beena Beauty Therapy?  Based at 199 Warstone Lane alongside Tip-Top Photography Studio, Beena Beauty Therapy offers a cosy haven away from all the hustle and bustle of city life.  There will be demonstrations throughout the day to tempt you to return for future treatments.  Whilst you are here do not forget to view Tip Top Photography Studios Jewellery Quarter competition, their camera club have been taking photographs of the local area and after a full tour of the Open Studios we are expecting you to have spotted quite a few of the landmarks being exhibited here.
Exhibitions are the bread and butter of Hub Studios on Tenby Street who are a multi-award winning, creative design agency who specialise in exhibitions, events, interiors and digital media.  Ever wondered who designs some of the interactive stands for large shows at the NEC? Or thought about how businesses convey their message to larger audiences?  Then a visit to Hub Studios will answer some of these questions, a truly global company with offices in Las Vegas and Dubai along with partners in China and Singapore come along and see how Hub Studios work from concept to design to delivering a solution. A really interesting business!
Next time we will be looking at the weekend event and what is in store along with handy hints about where to visit and where to rest enroute!

(10/07/2015) Roots

The School of Jewellery on Vittoria Street has been located in the heart of the Jewellery Quarter since 1890 making 2015 its 125th Year.  There have been many events to celebrate this year already and there are many more to come so it is a real treat that in this busy year they are opening their doors on 18th July from 11 – 4 as part of the JQ Festival.  It is great to have such an integral part of our community taking part in the event. The schools large light atrium area will be open displaying students work and there will be a workshop open where you can meet and view graduates making.  Gaynor Andrews Head of the School of Jewellery will be available to talk about the school and its courses along with answering any questions you may have about adult courses and the degree courses available.
We have quite a lot of School of Jewellery alumni in the Jewellery Quarter and so after visiting the school why not take a trip and visit three of them? Dual Works on Kenyon Street is home to jewellery artist Zoe Robertson who is a practice based researcher at the School of Jewellery as well as being Course Director for BA (Hons) Jewellery Design and Related Products.  Zoe's work challenges the boundaries of jewellery, large sculptural work explores the relationship between the object, body and space exhibiting the perfect balance that is always required for wearable jewellery.
Becca Williams on Hylton Street graduated in from the School of Jewellery in 2008 with a BA in Jewellery and Silversmithing.  She works across these disciplines to produce contemporary jewellery and silverware with an emphasis on texture. As well as producing her own collections Becca runs workshops from her studio sharing the knowledge she gained at the School of Jewellery and from running her own practice.
Just over a decade earlier James Newman graduated in the same subject, recognised for his design work and a trademark style that marries innovation and traditional skill he is seen as one of the leading jewellery designers in the UK.  He established his first independent workshop in 1998 and in 2007 set up his first shop her in the Jewellery Quarter on Vyse Street.
Many of the jewellers and makers in Open Studios and also on the high street are alumni of the school, why not visit and see how many you can find?
Next week it's the countdown to the Festival so expect more studio information and also details of which studios are open when!
(09/07/15) Tracing Back, Moving Forward
The story behind the Museum of the Jewellery Quarter seems as familiar as it is unbelievable, it's not unusual to see an empty shop front on the high street in between lettings but imagine a whole workshop left behind as it was on the day you left?  When Smith and Pepper closed their workshop in 1981 the Smith family turned the key and left behind history.  The building was sold to Birmingham City Council who after a few years opened up the building to find a virtual time capsule of jewellery production and techniques as well as more personal work life related items some dating back to 1899. The factory and buildings are now home to the Museum of the Jewellery Quarter and a visit here is like turning back the hands of time.  Open on Saturday 18th July as usual the museum will be offering costumed tours and introducing its new Gem trail (charges apply). There is a café in their courtyard, shop and a free history exhibition for you to enjoy whilst looking at the upcoming workshops and talks.
Some of the techniques on display are still used in jewellery making today but there is room for new technologies that work alongside the traditional skills.  James Newman on Vyse Street make all their jewellery on site, from design to wax samples through to the completed piece nothing leaves the workshop.  The use of CAD (Computer aided design) alongside sketches gives you an opportunity to "see" the piece in 3d before it is actually made. Gems are traced back to suppliers and all pieces are assayed at the Assay Office here in the quarter. A current favourite of mine is the Saturn Collection which uses the planet and its rings as inspiration but there are so many more collections to fall in love with not to mention their highly respected bespoke service. On Saturday 18th July James Newman will be open as normal on the busiest trading day of the week so if the shop and workshop are busy then you may have to wait a little time before being let in, but as we know the best things come to those who do.
James Newman studied at The School of Jewellery here in the Jewellery Quarter and tomorrow we will be looking at this establishment and its alumni.

(07/07/15) Plotting and Planning
So far on the Open Studios Blog we have looked at some of the studios and venues that will be opening and talked about their connections to the Jewellery Quarter, we have some  more studios to talk about but thought it was about time we helped you to plan your visit.
The Open Studios is part of Jewellery Quarter Weekend and will see around 40 studios and venues open their doors which is a lot of ground to cover so we are pleased to introduce our official Open Studios Map.  As usual in the Jewellery Quarter the expertise we need are usually on our doorstep and so Barques have designed the map and worked with the JQBID team  to produce something quite special.  The Map will be in the middle of the Jewellery Quarter Festival Guide but will also be available separately in venues around Birmingham, so let's take a look at it and start planning!
As we have mentioned a lot of the studios are up some very steep stairs, the access information is added next to each studio and if you take a look at the balloons you will be able to see whether there is full disabled access and also whether the studio is child friendly.  The website for each studio is noted so if you are not able to visit them over the Open Studio weekend you can always contact them afterwards to discuss your requirements.
So your access is sorted now it's time to look at what you want to see, each venue states whether it is open on Saturday, Sunday or both.  Some venues may decide to open on Sunday too so it may be worth calling to check, you might be lucky!
Each venue will have its number displayed and also balloons outside to entice you in, you may need to press a buzzer or ring a bell to gain access.  Some of the studios are quite small and so if they are full please be patient.
We are really excitED to be welcoming you to the Jewellery Quarter whether you are a resident, live in Birmingham or are visiting from further afield, take a look at the map and we will see you soon. In the meantime please follow us on twitter @JQBID, #JQFestival, #JQOpenStudios or keep reading this blog updated daily!
Next time we will be looking at tracing back and moving forward.
(03/07/15) Golf!?
We have some great award winning architect practices here in the Jewellery Quarter and over the Jewellery Quarter Festival Weekend you will be able to learn a lot more about them whilst also maybe asking some questions about your own grand design.
The Space Studio was founded in Birmingham in 2000 and are an innovative and vibrant well established RIBA Registered Practice that offers contemporary new build architectural, refurbishment and commercial interior design services.  As well as taking part in Ask the Architect (more of this later) in Golden Square, The Space Studio will be opening one of its current build projects on St Pauls Square and exhibiting the work of graduates from the Birmingham School of Architecture.  It will be a great opportunity to see buildings of the future. Another exciting and fun event is being planned by BPN Architects on Mary Street, formed in 1996 BPN believe in teamwork and collaboration to build and design buildings and spaces.  It's this collaboration that will see them opening their loading bay on Saturday 18th July and inviting you in to play crazy golf! Yes the loading bay is being turned into a putting green with live music to help you along the way.  Keep up to date with the progress of the design and build here! I am wondering whether the Red Lion Golf Club will be entering a team?  The Red Lion will be hosting Jazz sessions over the Festival weekend but is also a great place to visit if you like your art urban and modern.
Whilst the crazy golf will only be there for one day it's longevity of schemes that inspire PCPT Architects, I've been reading about a scheme they designed in 1970's which is still going strong.  On Saturday PCPT will be opening their doors and showing you what they do best, have your questions ready as there is a wealth of experience here.
Talking of questions and advice Golden Square will be home to "Ask and Architect" on Saturday 18th July.  Come along and discuss your grand design, small extension or shed. Or maybe talk about the built environment and how it is changing here in Birmingham.
(01/07/15) Record the day!
We've got many child friendly venues here on the Open Studios Trail but it's worth remembering that all children under 16 must be accompanied and supervised by an adult—there's a lot of machinery used and steep stairs to climb!  Homer Creative  are working hard producing the Jewellery Quarter Festival Newspaper that will guide you around the Jewellery Quarter. They will also be opening their doors on Saturday and Sunday to discuss what they do but also to ensure that you have a photographic memory of the day! The Jewellery Quarter Photographic Project provides you with a free portrait to take away, family selfies with quirky backgrounds that you will treasure for years to come.  Whilst you are learning about Homer Creative and posing for selfies why not take part in a free family workshop and make your own badges, buttons and jewellery inspired by the history of the Jewellery Quarter, in fact why not wear your creations in your self portrait!
Deciding what to wear for a family portrait can be an arduous task so maybe a visit to Karlus G. Tailor on Vyse Street will help you choose your attire. Karlus G Tailor creates bespoke clothing for every occasion, glamourous evening dresses, tailored suits, beautiful shirts and perfectly fitting jeans.  Currently his workshop is on Spencer Street but by the time the Festival comes around he will have moved into his brand new pad!
Spencer Street will still be the home however of the jewellers Julia Davenport and Rhiannon Lewis who whilst they share a studio produce work that it very different from each other.  Julia Davenports Concertina collection uses leather and silver to create unique statement pieces, whilst Rhiannon Lewis work uses uncut precious stones and oxidised  silver to create pieces with strong lines and arcs.
Next time we will be talking about architecture!


(30/06/15) Under the Hammer and Brush!
Did you know that the Jewellery Quarter is home to one of the UKs oldest and most respected firms of Auctioneers and Valuers?  Fellows and Sons was established in 1876 when the collapse of a bicycle order left William Henry Fellows with a lot he had to send to auction, Louisa Fellows (Williams wife) was a Pawnbroker and so used auctions to sell uncollected pledges.  Still a family business today Fellows moved to its current premises' on Augusta Road in 1990.  On Saturday 18th July Fellows will open its doors and invite you to view pieces from the upcoming auction on 20th July of Vintage Jewellery and Accessories. Also on display will be a small selection of Derbyshire Blue John objects, Derbyshire Blue John is a beautiful semi-precious mineral which has purple or yellow bands of colour running through it.  In the UK this material is found only at Blue John Cavern and Treak Cavern at Castleton in Derbyshire and as it is mined on such a small scale now is very rare and collectable.  The event on 5th October  will see the most extensive collection of Blue John offered in one sale at auction so be one of the very first to view selected lots and marvel in this beautiful (almost local!) stone.
Still want more vintage?  Then stay on Augusta Street because Eldorado Vintage is just a few doors away from the auction house.  Another family business run by mother and daughter, Sian and Rhiannon, Eldorado Vintage is a real trip down memory lane with collectibles from every era.  But whilst the furniture is from the past this team does not stand still and upcycles old unloved furniture into something really rather desirable using Annie Sloan Chalk Paint.  The only retailer of Annie Sloan in Central Birmingham Sian is Annie Sloan trained and will be demonstrating paint techniques throughout the day on 18th July and 19th July, they will also have a stand in the Grand Bazaar Market in Golden Square.
Finally in this family and Augusta Street round up lets visit Henricks (corner Augusta and Warstone Lane) a family business that dates back to 1855.  Mike Henrick is a fourth generation master jeweller and will be on hand to discuss your jewellery requirements and questions.
Next time we will be looking at tailors and portraits!
(29/06/15) Building the future!
Last time we looked at Centrepiece a 20 plus strong group of designer makers,eight members will be exhibiting at Kathryn Campbell-Legg's studio in Pitsford Street but one of them, Becca Williams, will be exhibiting from her own studio in Hylton Street.  If you are tired of being landlocked then a trip to Beccas studio could be just the tonic you need as her work is inspired by the coastline.  The tide, the rocky crags, flotsam and jetsam are all used as inspiration for fine pieces of Jewellery and Silverware, spend some time with Becca and I expect you will be able to hear the sea! My favourite collection is Estuary which reflects the ebb and flow of the tides beautifully.
As well as being able to see Becca's work in her studio it can also be found at Artfull Expression – a real must see for all enthusiasts of handcrafted jewellery, on Warstone Lane which is currently where you can also find the work of Michele White (another Centrepiece member). It is an exciting time for designer jeweller Michele at the moment as after producing her original jewellery in the quarter for 30 years  she is about to launch her new project Artizans at 85  on Caroline Street.  A multi-use space that will include a Gallery, Studio Workshops and Workbenches Artizans at 85 is set to become a hub of creativity for emerging businesses.  You are invited to view the space as it reaches its final stages of completion meet the makers and also maybe talk to Michele about how the space could work for you.
Another space in the making will be open on Spencer Street over the Festival Weekend, The Guildsman Jewellery Gallery will be opening in 2015 as a dedicated exhibition and retail location for designer makers working in any aspect of silver and goldsmithing.  There will also be on-site meeting and manufacturing spaces.  A visit to this space will give you a flavour of what's to come and once you have viewed it why not rest a while in The Jewellers Arms  a traditional pub in the heart of the Quarter which will be of interest to all you history buffs out there as on the walls are many pictures of the old Jewellery Quarter.
So old and new in this blog, next time we will be auctioning our lots!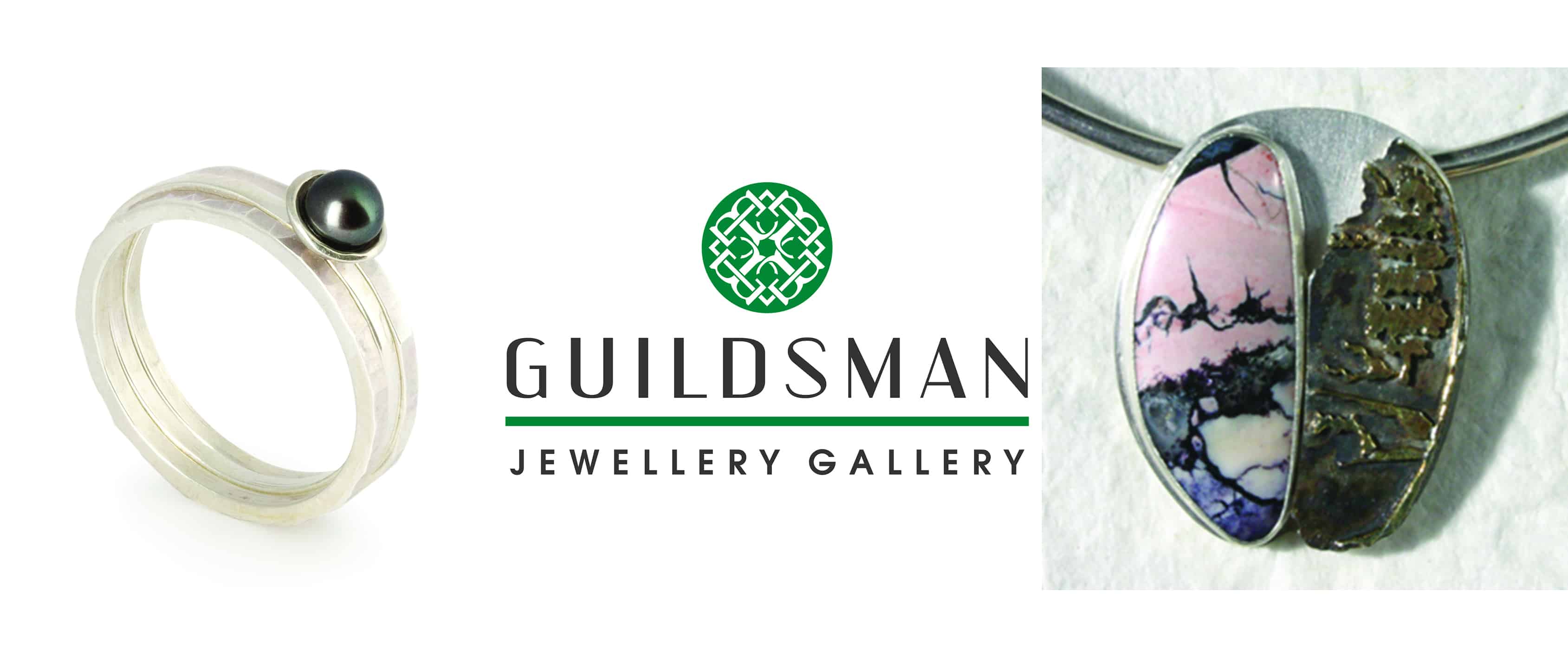 (26/06/15) From the Centre Out
A blog with a difference today in that we are looking at one Open Studio only but do not feel short changed because in this one studio you will find 8 designer makers using precious metals, enamel, semi and precious stones and a demonstration of stone cutting!
Centrepiece was formed in 1997 to create an opportunity for designer makers working in the Jewellery Quarter to showcase their work to the Birmingham public.  You may well have seen their annual exhibition at The Symphony Hall. There are over twenty designer makers in the group and 8 of them will be exhibiting in Katherine Campbell-Leggs studio in Pitsford Street.
In this post we will be using the word precious quite a lot, but what do we really hold precious?  This theme is explored by Rita Patel  in her "Rice" capsules which combine gold and real grains of rice, which one is the most precious? Another thoughtful juxtaposition can be found in the personal work of Miranda Sharpe which draws on the microscopic imagery of bacteria and disease finding beauty through the form and colour of these images.  Moving on from the microscopic it is the larger natural world that inspires many of the other designer-makers who will be exhibiting.
For Glenn Campbell it is the smaller parts that make up the natural world that interest him, metal experimentation provides the texture and dimension to his pieces based on leaves and pods. The elements and seasons inspire Sian Hughes, her first collection was based on winter snow blizzards in New York. Natural treasures such as shells, fossils and driftwood both inspire and are combined in the work of Memory Stather, precious metals and enamels meld together to create a unique natural landscape. Memory will also be demonstrating gem stone carving techniques. Natural forms and human geometry inspire Nobuko Okumura,  which create a delicate identity with confident shapes and forms.  Line and can also be seen in the work of Kate Thorley check out how she has used the Birmingham Library pattern to inspire her work. Thinking about pattern brings us to our final designer maker Katherine Campbell-Legg, the key features in her work are pattern, fine texture, finish and surface quality.  Considered areas of gold application ci=ombined with the rolled texture create unique pieces of jewellery.
Phew!! A lot of knowledge and Craft in one place here on the Jewellery Quarter Open Studios trail!
Next time we will continue with jewellers including two new gallerys!

(25/06/15) Shine on
Art and Industry are the cornerstones of Birmingham, emblazoned on every coat of arms across the city and also found together under the roof of Frilly Industries here in the Jewellery Quarter.  With over twenty years' experience in the participatory arts sector Kirsty Hillyer and Adrienne Frances decided they needed an outlet for their own work and so under the banner of Frilly Industries, they work in the Jewellery Quarter producing laser cut jewellery on their trusty laser cutter "Bertha".  Expect humorous and thought provoking pendants, brooches and earrings—my favourites at the moment include scissors and balls of wool.  On the 18th July you will be able to visit the studio and see "Bertha" in action and also see the full range of their jewellery and faux taxidermy for sale at the JQ Grand Bazaar on Golden Square that same day.
Opposite Golden Square lies Warstone Cemetery,  why not explore a little on your way to Visionary Glass on Pitsford Street?  Artist Mike Goodrum uses the ancient technique of glass fusing to create stunning opalescent wall art and contemporary feature mirrors.  Walk into his studio workshop on even the dullest day and see how his art work both reflects and plays with the light.  Mike runs regular workshops in glass fusing, art glass and stained glass all of the techniques can be learned in a one day course but will take a lifetime to master.  On 18th and 19th July Mike will be demonstrating fused and stained glass techniques, a real taster for his future courses.
If seeing stained glass techniques has made you want to see more  then why not take a trip to St Pauls Church in St Pauls Square, which has been at the heart of the jewellery Quarter since 1779, and sit for a while and contemplate the amount of hard work that went into these window masterpieces.  The church's vision is to be a creative hub for the area and to offer hospitality and welcome to all who come through its doors.  In between administering a Wedding and regular services Vicar Mary Gilbert will be exhibiting her own silverwork and will be on hand for a chat about the Church and its work.
It's time for Jewellery in our next few blogs.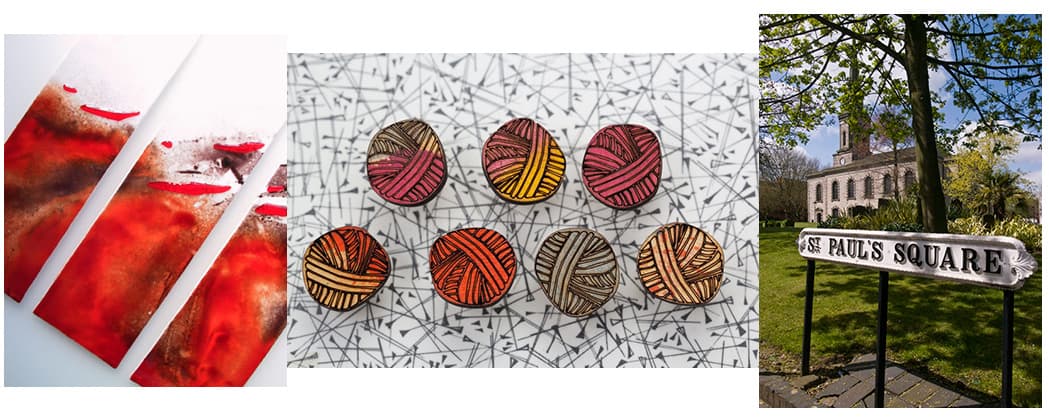 (24/06/15) Sand, Sellotape and Shots
For many people the walk from St Pauls Square along Caroline Street is the way they get to the main high street in the Jewellery Quarter, but along this street for the Festival weekend there will be many studios and galleries open, today we will look at two of these and then take you for a well-deserved drink.
Rob Garner at Glass Monkey on Caroline Street has over 28 years' experience in the glass trade.  Sticking to traditional methods of glass etching Rob hand draws and stencil cuts his designs before sand blasting the design onto glass. Those of you who frequent the Jam House will be familiar with his work even if you do not know the artist.  Rob will be demonstrating the process from stencil to sand blast on Saturday 18th and Sunday 19th at 11:00 and 14:00 and will be open to viewing at other times, the front shop area is full of art deco designs – look out for the robot!
It's not robots but machines that interest one half of The Dual Works a relative newcomer to the Jewellery Quarter The Dual Works in Kenyon Street is a shared artist studio featuring the work by Jewellery artist Zoe Robertson and analogue opto pioneers Sellotape Cinema.   A specially adapted projector enables Sellotape Cinema to create film directly on to sticky tape but machine manipulation does not end there with 3d printers being taken apart to create artwork with feltip! Dual works is a large space and so expect theatrical scale jewellery from Zoe Roberston  as her current studio practice explores the notion of Jewellery and Performance. Visitors will have the chance to make art to take away!
Thinking about take aways what better way to end you tour of the Open Studios than with a visit to our very own local brewery for a whistlestop tour and maybe a takeaway poly? Two Towers Brewery in Mott Street  is a real home grown tale from home brew on the kitchen table in Edgbaston to their brewery premises today.  On Saturday 18th July Two Towers will be running free half hourly(ish!) tours of the brewery, this is a great opportunity to see a working brewery and enjoy a local brew.
Next time we will be looking at glass fusing, laser cutting and contemplation.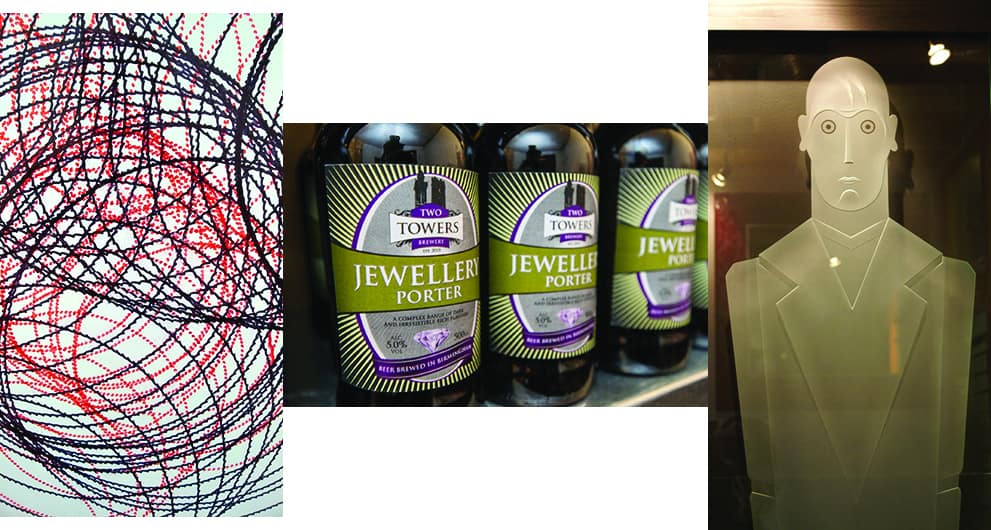 (23/06/15) It's All About Time
Quality and time go hand in hand in the Jewellery Quarter with many a company having roots going back to the mid 1800's and beyond.  Skill and craftsmanship do not happen overnight it's a long old road which why in art we call it a practice.  Britain Clockcase   in the very centre of the Jewellery Quarter is a company that both contains and restores time and on 18th and 19th July you will be able to go and take a look at the workshop where it all happens. From wooden clocks to barometers to the stands for the Ryder Cup there really is no end to what this company can turn its hand.  Traditional methods are used with no CNC lathe or computer controlled equipment and machining is kept to a minimum, it's a family business so expect to see and talk to them about more than just their company but also about the history of the Jewellery Quarter as a whole.
Whilst the 24 hour clock is our guide we all measure time in different  ways tapestry maker Tina Francis (yes it's me)  measures her days in inches not hours.  Tapestry stitching takes time and during the Festival weekend you will be able to visit Tina who will be showing the process from design through to stitch alongside her kits and patterns that are sold in Birmingham Museum and beyond.  Also on display will be the artwork in progress for Tina's solo show at the Coffin Works next May.
Whilst The Coffin Works  is based in a building that used to deal with the end of time it is definitely interested in the here and now.  Newman Brothers used to own the building and factory and were Birmingham's last coffin-furniture factory which operated for over one hundred years until it closed in 1998.   A visit to open daily Coffin Works now will see you leaving with knowledge about famous people, plate pressing and why the windows at eye level always contained obscured glass. But this heritage venue is about more than the cataloging of time, on 19th July join them for a Tea Party in the courtyard and enjoy workshops in yoga and furniture restoration and demonstrations in drop stamping and Thai Chi!
Clocks, coffins and cushion designs we've got it all here in the Jewellery Quarter, next time we will be looking at sandblasting, sellotape and shots (well pints actually!)

(22/06/15) Through the Gate
Ever wandered around the Jewellery Quarter and wondered what is behind those barred gates and doors?  Well today's Open Studios will let you in on a little secret.
Behind the gate of 53a Frederick Street and up some very steep stairs there are two studios offering very different experiences.  Crafts Collective was set up just over a year ago and offers a range of Craft Workshops in a vintage surrounding, even your tea is served in vintage cups!  A warm and friendly atmosphere and a mixture of workshops has made this studio a favourite with Hen Parties making anything from corsages to bunting for the bride to be's special day.
Carry on up the stairs of 53a and you will be met by the friendly face of Gosia Weber, leather worker extraordinaire.  Regular visitors to Moselely Craft Market will recognise her distinctive style and colour flair.  No two bags are ever the same, so you can rest assured that no one on the high street will be walking past carrying the same one as you.  It will be a real privilege to see the workshop behind the brand on Sunday 19th July, you can also see Gosia on Saturday 18th July at the Grand Bazaar Market in Golden Square.
Many of Gosias creations use a flower motif and if after seeing her designs you begin to crave the great outdoors do not worry because we have our very own garden designer Christine Barve.  Behind a blue door on Pitsford Street is a secret yard that will be transformed by Christine into a pop-up garden showing you how even the smallest and most unloved of spaces can become an urban garden.  Christine will be on hand to answer any of your gardening questions in the little green oasis in the middle of our urban jungle!
So next time you walk around the Jewellery Quarter spend a little time imagining what lies behind those gates—I'm sure gardens, handbags and Hen Parties were not the first things that came to mind!
Next time we will be looking at Time!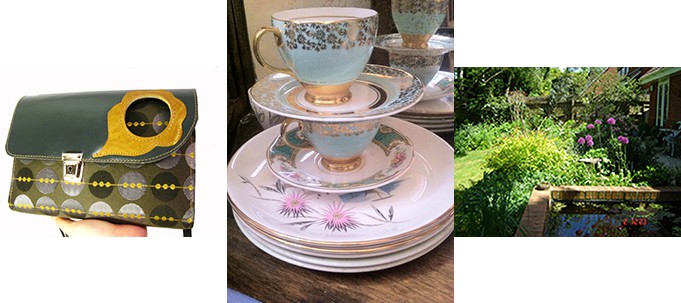 (18/06/15) Precision in the Detail

Whilst you are reading this on an electronic device it is worth remembering days not too long ago when writing meant using a pen and Birmingham was the centre of pen nib making in the world! Yes, it seems we taught the world to communicate.  The Pen Museum in the heart of the Jewellery Quarter concentrates on the small things, the pen nibs that created jobs and—for some—prosperity in Birmingham.  Learn how to make your own nib with traditional machinery, see the art of writing with a calligraphy demonstration and enjoy looking at the intricate detail on each pen nib.  My favourite is the nib used to draw music scores, such attention to detail!
Its attention to detail that drives the work of furniture designers JDD (Joint Design Direction).   JDD is owned by Joseph Duffell and James Mercy who worked in the design and furniture industry before setting up their own company in 2008.  Their furniture is bold and bright with attention to craftsmanship which means their products are here to stay.  All their furniture is designed and made here in the Midlands, check the details on the stitching whilst you rest awhile and sit on some of the most cutting edge furniture Birmingham has to offer.
It's all about quality of stitch and materials at Sparklewren delicate designs that will become heirlooms are made by Jenni Hampshire and her team in their Jewellery Quarter atelier.  Bridal designs are a favourite and will all eyes on the bride it's important that the fit and quality we expect from the home of makers is continued here.  Revel in the designs and learn about how to stitch exquisite designs.
So steel runs through all of our Open studios today, from pen nibs to upholstery needles and finishing with corsetry needles made down the road in Redditch.
Next time we will be looking at Jewellers from the Jewellery School which is the heart of the Quarter through to its alumni and beyond.

(17/06/15) Modelling, Sculpting, Carving Away
Have you ever wondered how jewellers and silversmiths create such intricate designs?  Chances are the piece that you are coveting began life on the jewellers bench as a piece of wax and not a piece of silver.  Silversmiths carve the ring out of a piece of wax this wax carving is then sent to the casters who use it to cast the ring in silver.  It's an old process and shows another skill behind jewellery manufacture, many of the Jewellery shops around the Quarter can explain this process to you in great detail and we will be posting about them next week but in the meantime let's take a look at the Open Studios who use carving, sculpting and printing to create wonderful 3D results.
First on the list is The Wonderful World of Trains and Planes  (check website for fees). A relative newcomer to the Jewellery Quarter, this attraction is built on the knowledge and passion of a group of enthusiastic modelers to create an experience that includes flight simulators, train tracks from around the world and much more!  Want to know how to create a rocky mountain scene for your train set, or a more arable landscape?  Maybe the urban world is something that you prefer?  The Wonderful World of Trains and Planes can show you how, from the carving of the "blue block" through to trees, bears and hens everything is here for an enthusiastic modeler.
Prefer your sculpting to use stone or clay and to be a little larger? As well as its usual exhibitions and Craft Gallery, The Royal Birmingham Society of Artists (RBSA) will be holding a "how we make it" day on Sunday 19th July.  Viv Astling is a master carver and sculptor and will be giving demonstrations throughout the day of the process behind and the skills required to sculpt and carve fantastic 3D pieces.
Interested in 3D art but want a little bit of technology thrown in too?  Black Country Atelier  use the latest 3D printing technology to create models out of (it seems to me!) thin air! See how the collaboration between artists, designers, engineers and scientists can create innovative design and products. Learn how 3D printing works and see how Computer Aided Design is used in industry.  Black Country Atelier are a leading Education Technology service provider and work hard to provide students with the link between design and industry.  Still thinking about the Scalextric set you saw at Wonderful World of Trains and Planes? Check out Black Country Ateliers recent blog where they interview a Scalextric car designer!  Oh yes we have the links right across the Jewellery Quarter!
So from the traditional to the modern we have modelling covered here in the Jewellery Quarter
In the next blog we will be looking at pen nibs, corsets and furniture!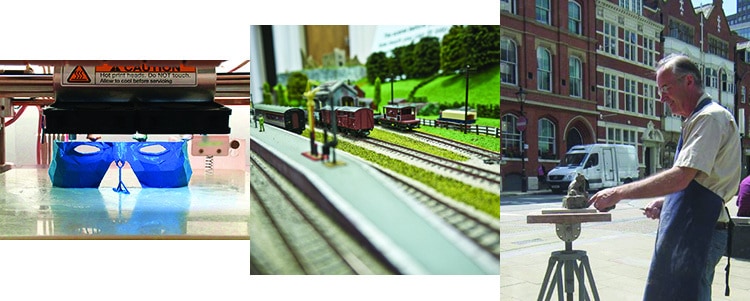 (16/06/15) All About Your Image

We're looking at the art of photography in today's Open Studio blog. Thinking back, apart from being made to sit on the family settee for the annual Christmas card photograph, my first real exposure to the art was through album covers—so one of the must sees for me is St Pauls Gallery in Northwood Street just behind St Pauls Square.  This gallery houses the world's largest collection of signed album cover fine art prints from Bowie to 10CC through to Jimi Hendrix and Blondie all the images you first encountered in your youth now available for your wall.  My favourite has to be New Boots and Panties by the late and always great Ian Dury, the album cover is the work of Sir Peter Blake and the signed edition makes this a special piece of art.
Whilst the family shots of the 1970s had their charm the work of Gibson/Kochanek shows how fantastic the art of photographic portraiture can be .  The Studio is run by two award winning photographers who approach each project by inserting love, passion and bespoke creative vision.  Recent work has seen them collaborate with the dancers of the Birmingham Royal Ballet and also the launch of the "Trust me" series that features people with the same passion and drive as the studio itself.  Alongside a visit to the studio you will also be able to buy prints by Barbara Gibson at the JQ Grand Bazaar on Saturday 18th July.
If all of this talk of photography has encouraged you to have a go then you next port of call has to be Tip Top Photography Studio. Run by photographers Deb and Steve Underhill, Tip Top have been resident in the Jewellery Quarter for quite a few years.  Their large studio is available for hire and they also run a fantastic Photography Club which invites newcomers and professionals alike, for the Open Studios event the Club has been tasked with producing images from around the Jewellery Quarter, why not see how many of these you can spot as you walk around?  Full of advice and inspiration Tip Top is a great studio in the heart of the Jewellery Quarter.
Next time we will be looking at tiny sculptures, trains and planes and the RBSA.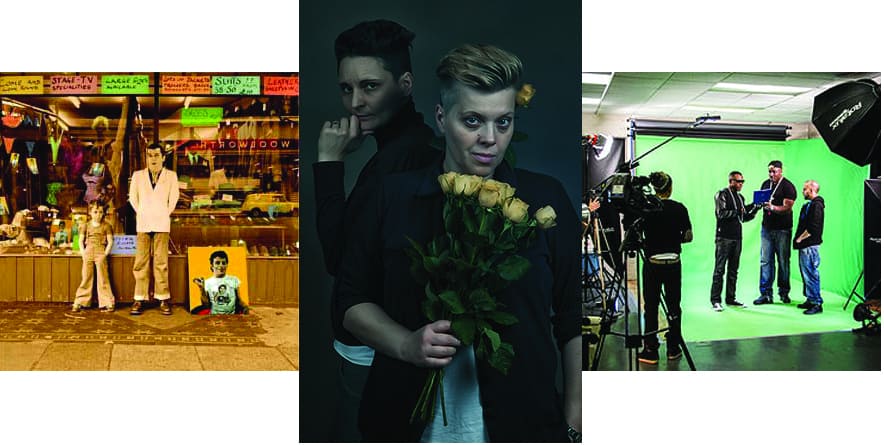 (11/06/15) What are they doing in there?

Enjoy finding out how objects are made?  Interested in Birmingham history?  Excited about meeting the person behind the design?  If the answer is yes to all of these then the Jewellery Quarter Open Studios is perfect for you!
The first Jewellery Quarter Festival will be held this year from 17th July until 19th July along with street markets, helter skelters, jazz festivals and architect walks the Open Studios will bring something new and exciting to your visit to the Jewellery Quarter.
On 18th and 19th many of the makers, designers and small manufacturers in The Jewellery Quarter will be opening their doors and inviting you to come on in and see how they work and what they do.  Alongside the jewellery designers, makers and manufacturers we also have a wealth of other trades just waiting for you discover.  Leather work, sandblasting, 3d printing, stitching, tailoring, corset making, glass fusing, photography, floristry to name but a few are all represented here.  But why stop there the Jewellery Quarter is home to a growing  number of heritage and museum venues waiting for your visit, The Coffin Works, The Pen Museum, Museum of the Jewellery Quarter, JW Evans and The Wonderful World of Planes and Trains will all be open and waiting for you to step inside (some fees will apply).  Prefer your art on the wall?  RBSA and St Pauls Gallery are minutes away from each other one houses the best that Birmingham artists have to offer and the other houses the world's largest collection of signed album cover fine art prints.  With around 40 studios open plus all the Jewellers  it could all get a little tiring but don't worry, we have pubs and cafes waiting for you to rest a while and even a furniture maker with chairs and settees aplenty!
We are looking forward to opening our doors and letting you in, over the coming weeks we will be featuring the participants so that you can start planning your weekend visit.
Just knock, we're open!