Estate management company appointed to latest Jewellery Quarter development
Reading Time: 2 minutes
Principle Estate Management has been appointed to manage a Birmingham development a year before the site is due to be completed.
Elevate Property Group chose Principle after a competitive tender to advise on key issues while Heaton House is still under construction.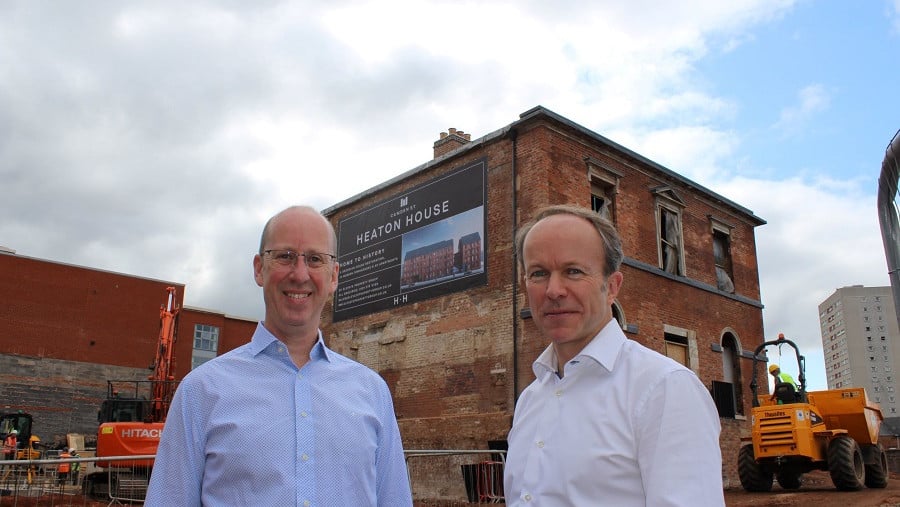 The site contains a 19th century Regency villa, Heaton House, which was hidden behind derelict and redundant industrial buildings that had, over the past 200 years, grown up around the original merchant's mansion that gives the site its name.
Elevate have appointed Kavannagh Construction as main contractors and they  began work on the Camden Street development in the Jewellery Quarter in May this year.
They are building 56 residential properties, including 14 townhouses, 42 apartments, 4,300 sq ft of commercial space and Heaton House itself, which is being redesigned as a 3,455 sq ft four bedroom dwelling.
The original Heaton House was the home of a leading Birmingham merchant, William Cotterill. It was an early 19th century villa on Camden Street, which at the time was part of the middle class suburban developments that grew up on the fringes of the city centre in Birmingham.
Principle managing director Brett Williams said:
We are delighted to have won this competitive tender at this stage in the construction process because it gives us the opportunity to have input on some key issues that can significantly improve the finished product.

Heaton House will be one of over a dozen developments we manage in the Jewellery Quarter and we were chosen because we have the ability to manage the commercial elements as well as our core business of the apartments and town houses.
Stuart Winslow, property manager at Elevate Property Group, said:
Principle's proposal and presentation was head and shoulders above the others. We have invited them onboard at this early stage in construction to advise on issues such as the siting of CCTV cameras, electric vehicle charging points and options, including electric bikes which becoming increasingly popular.
A show apartment will be opened in the Spring of 2022 with completion targeted for the summer.